The Big Ideas of 2013
BY

Michelle Garcia
December 18 2013 1:47 AM ET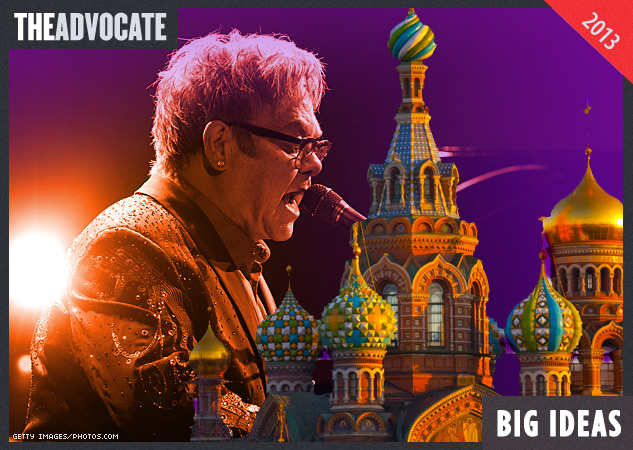 We Have to Keep Confronting Russia
Earlier this year, Russia's government enacted a law that criminalized any so-called propaganda that could be viewed as being supportive of LGBT rights.

At first, some organized a dump of all Russian vodkas and other products. Though some debated the effectiveness of such a boycott, the move was at least symbolic, and it got people around the world talking about human rights in Russia. Wentworth Miller declined an invitation to a Russian film festival because he is gay (a revelation in and of itself). Conversely, Thomas Roberts and Elton John both said they felt compelled to go to Russia this year in solidarity with the country's LGBT population.

"At my concert, I made a statement, directly to the audience, about how sad, shocking, and isolating this new law seemed to be," John wrote in The Guardian this month. "A young woman with a rainbow banner cheered. I realized then, with thousands of Russians cheering for a man they knew to be gay, that I had made the right decision. I believe the Russian people are decent and will be persuaded — but they need to hear us, and see we are human."

Roberts, who was invited to host Donald Trump's Miss Universe pageant in Moscow, told The Advocate he wanted to go to Russia because it was "such a large visible opportunity." He added, "I thought this was a fantastic opportunity for people to learn about me being openly gay and marriage and my husband being with me, and send a strong message."

Both Roberts and John said they met with LGBT Russians to understand more about their living situations and to learn more accurately about the conditions in Russia, and to understand how outsiders can help them.

However, last week, German president Joachim Gauck and European Union commissioner Viviane Reding said they would not head to the Winter Olympics in Sochi, Russia, specifically because of the antigay laws. And then Tuesday, the United States government announced its delegation to the Olympics. The delegation will not include the president, vice president, or first lady, all members of the delegation for the 2012 Olympic Games in London. Instead, lesbian tennis star Billie Jean King and Caitlin Cahow, an out Olympian hockey medalist, will represent the States in Sochi.

The reality is, each method — boycotting and confrontation — effectively condemns Russia for the law and subsequently violent acts against LGBT people. It just depends on who is doing what. When the president of the United States decides not to show up for an international event like the Olympics, that sends a significant message. Purposely sending prominent LGBT people to represent the United States to a country where being openly LGBT is seen as essentially illegal is also a significant message that shows we're not going to cower in fear.
"A number of celebrities have recently declined to go to Russia, some for fear that it is unsafe," John wrote. "But I say to my friends — we all owe our freedoms to people who took risks with their safety for us, and faced far greater dangers than those confronting a western artist in Russia. Freedom is worth taking a risk for."
The next people to take a risk are a group of athletes who are raising money to go to the Olympic Village, where they plan to stage a kiss-in during the Sochi games in February. They know they will be risking arrest. But for them, it's a risk worth taking.