The Big Ideas of 2013
BY

Michelle Garcia
December 18 2013 1:47 AM ET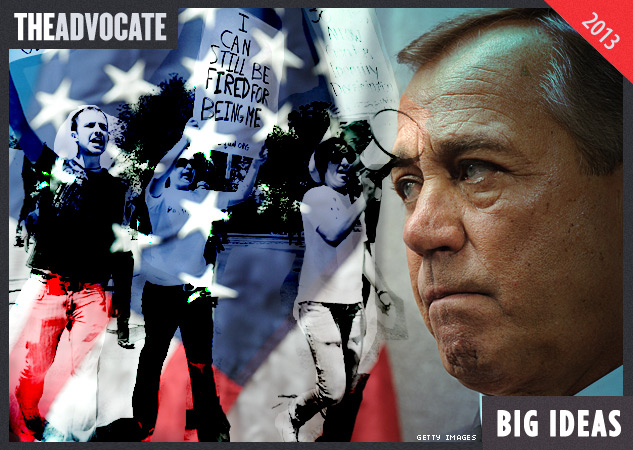 Republicans Are Integral to Passing ENDA
After decades of attempts to pass legislation to ensure that LGBT people cannot be fired for simply being themselves, the U.S. Senate approved such a bill with bipartisan support (and support from a majority of voters too). Ten Republican senators voted in favor of the Employment Non-Discrimination Act in November, making the GOP-majority House of Representatives the last hurdle in enacting this law, since President Obama has said that he would gladly sign the bill.
Aside from ENDA being policy that protects LGBT workers, it is not exactly the sort of legislation that Republicans would automatically rally around. ENDA would add regulations for employers, enable workers to sue on the basis of discrimination, and possibly tamp down on biased actions by religious organizations (typically framed as "religious exemptions").
But America's biggest businesses might be able to sway Republicans with the fact that many already volunteer to not only protect current and potential employees from discrimination but also extend same-sex-partner benefits to employees in states where they don't necessarily have to. According to the Human Rights Campaign, 91 percent of Fortune 500 companies protect employees against discrimination on the basis of sexual orientation, and 61 percent on the basis of gender identity.
Tico Almeida, the founder and president of Freedom to Work, says his organization has lobbied at least 20 House members since ENDA passed the Senate. Furthermore, his organization's legislative director, Christian Berle, is a Republican, who is planning a major lobbying push among the GOP for 2014.

"We believe in leaving no stone unturned and lobbying even the most conservative members of the Republican conference, because you never know which congressman just had a daughter come out as transgender or a son come out as gay," Alameida says. "If ENDA were allowed to come to a vote in the House, we think it would pass and with some surprising Republican 'yes' votes."
And what's preventing ENDA from a full vote in the House? Speaker John Boehner, who claims to be "opposed to discrimination of any kind, in the workplace and anyplace else." But he added, "People are already protected in the workplace. I'm opposed to continuing this. Listen, I understand people have differing opinions on this issue, and I respect those opinions. But as someone who's worked in this employment law area for all my years in the state House and all my years here, I see no basis or no need for this legislation."