The Big Ideas of 2013
BY

Michelle Garcia
December 18 2013 1:47 AM ET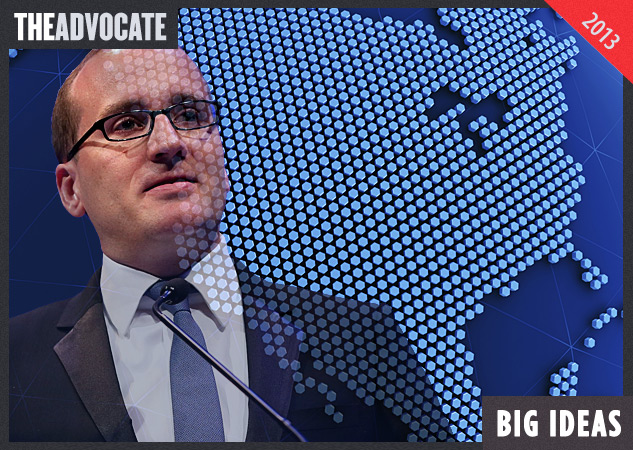 Chad Griffin's 50-State Strategy Seems Feasible
Hours after the U.S. Supreme Court struck down part of the so-called Defense of Marriage Act and, on a technicality, California's constitutional marriage ban, Human Rights Campaign executive director Chad Griffin proposed an audacious goal.
"Within five years, we will bring marriage equality to all 50 states," he said in June.
The idea may have seemed a bit too optimistic even in that moment as people celebrated the major win for LGBT rights. After all, it took nearly a decade after Massachusetts became the first state to establish legal marriage equality for 11 additional states to follow suit.
But in the months following Griffin's pitch, however, three more states (New Jersey, Illinois, and Hawaii) enacted marriage equality, and New Mexico has extended marriage rights in some counties. Furthermore, residents in states like Virginia, Nevada, Oregon, and Indiana are gearing up for either legislative campaigns or court battles to win the right to marry for all couples. In fact, HRC spokesman Fred Sainz says the five-year mark is a practical goal, given the timeline of cases like Perry v. Hollingsworth, which decided the fate of marriage in California.
"We tried to establish a reasonable time frame," Sainz said. "It had taken just over four years for the Supreme Court to decide Perry. The case was filed in May 2009 and decided by the court in June 2013. The next marriage case to hit the Supreme Court will more than likely be decided by the spring of 2017."
Sainz also points out that one of the most visible and vocal advocates on the opposing side of this argument more than agrees with Griffin.
"In fact, Maggie Gallagher [the former head of the National Organization for Marriage] has said that she believes it will happen in three years."