PHOTOS: Illinois Becomes Marriage Equality State No. 16
BY

Michelle Kanaar
November 20 2013 9:26 PM ET
Before a crowd of thousands at the University of Illinois at Chicago's Forum on Wednesday, Gov. Pat Quinn signed Senate Bill 10 into law, bringing marriage equality to the land of Lincoln.
The signing ceremony Wednesday afternoon featured speeches by several politicians and a moving rendition of "America the Beautiful" by the Chicago Gay Men's Chorus, but some of the loudest applause went to a gay couple who've been together more than 50 years and will finally be able to call themselves newlyweds.
"We have never wanted special rights or extra rights," said Patrick Bova, who will finally be able to marry partner Jim Darby. "We have just wanted to be equal." For them, marriage will mean, among other things, that Bova will be eligible to be buried next to Darby, a veteran of the Korean War, in Abraham Lincoln National Cemetery.
Lincoln, who spent much of his life in Illinois, was invoked by several speakers, and Quinn signed the bill on a desk on which the 16th president wrote his first inaugural address. Rep. Greg Harris, the bill's chief sponsor in the state House of Representatives, cited the progress represented by the bill by saying, "We never walk back," a paraphrase of Lincoln.
Photographer Michelle Kanaar was at the joyous celebration and provided these heartwarming photos to The Advocate. Find more photos from the ceremony and celebration on the following pages, and find more of Kanaar's work here.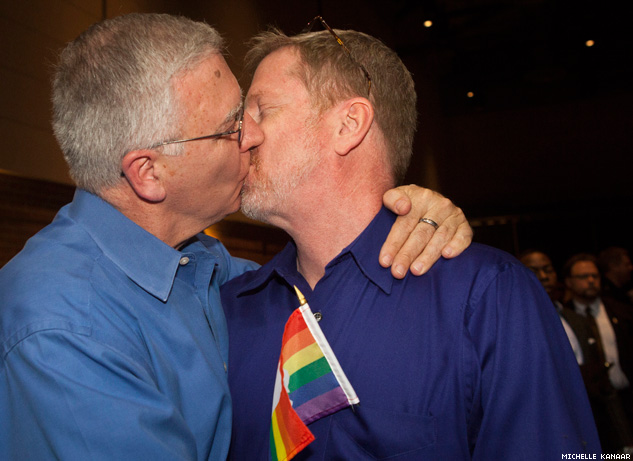 Ken Mertes and Craig Harzinski pose for a photograph after Gov. Pat Quinn signed Illinois's marriage equality bill into law on Wednesday, making Illinois the 16th U.S. state, plus the District of Columbia, with marriage equality. "It's amazing," Harzinski said. The two have been together for 18 years and were married in Canada in 2005 by themselves. In June they hope to reaffirm their vows in Illinois with their friends and family.