2013: The Year in Coming Out
BY Lucas Grindley
December 31 2013 12:00 PM ET
COMING OUT IN HOLLYWOOD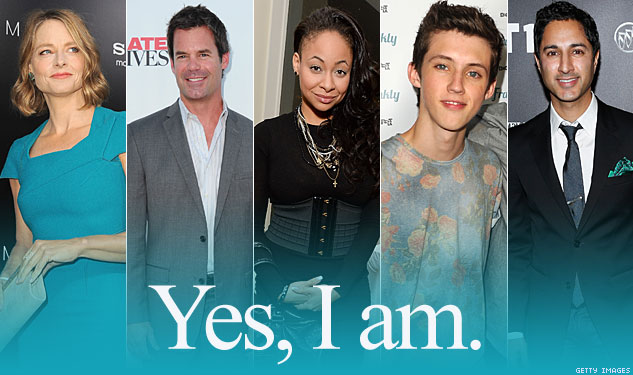 Above from left: Jodie Foster, Tuc Watkins, Raven Symone, Troye Sivan, Maulik Pancholy
Jodie Foster, actress
Easily one of the biggest headline making comings out of the year, Foster made her announcement during a worldwide broadcast of the Golden Globes in January. She was accepting the prestigious Cecil B. DeMille Award and her speech headed into unexpected territory. "So I'm here being all confessional and I guess I just have the sudden urge to say something that I've never really been able to air in public, so a declaration that I'm a little nervous about. But maybe not quite as nervous as my publicist right now, huh Jennifer? Um, but uh, you know, I'm just gonna put it out there, right? Loud and proud, right? So I'm gonna need your support on this — I am single. Yes I am, I am single. No, I'm kidding. But I mean I'm not really kidding, but I am kind of kidding." Eventually she stopped kidding and came out.
Lucas Cruikshank, Nickelodeon actor
Young teenagers will know Nickelodeon's Fred: The Movie franchise, and its star came out in a YouTube video in August. "It feels so weird saying it on camera," said the 19-year-old, laughing. "But my family and friends have known for like three years; I just haven't felt the need to announce it on the Internet."

Tuc Watkins, actor
While on Marie Osmond's talk show in April, Watkins came out as a single gay dad. He's a well known face to viewers of One Life to Live, or Desperate Housewives, on which he played one half of a gay couple living in the neighborhood. Here's a look at Watkins's careers so far.
Raven Symone, actress
The former Cosby kid and star of Disney's That's So Raven cheered when the Supreme Court struck down Proposition 8 in California and killed section 3 of the Defense of Marriage Act. "I can finally get married! Yay government! So proud of you," she wrote on Twitter in August, coming out for the first time after long being the subject of gossip news.

Maria Bello, actress
In a column in The New York Times in December, the actress wrote about "Coming Out as a Modern Family." She looked back on what it was like to tell her 12-year-old son that she's with a woman. "I was with someone romantically and I hadn't told him," Bello wrote. "I had become involved with a woman who was my best friend, and, as it happens, a person who is like a godmother to my son." After she finally told him, her son replied, "Love is love."
Andrew Scott, actor
In an interview with The Independent in November, the actor who plays Moriarty in Sherlock came out. The infamous villain needs a convincing Russian accent, and Scott said he'd been doing his research: "So I started looking at Vladimir Putin videos on YouTube. But then Putin introduced antigay legislation this summer—so, being a gay person, I switched to Rudolf Nureyev videos instead. It was another Nureyev defection of sorts!"

Matt Dallas, actor
The star of ABC Family's KyleXY came out via Twitter in January, sharing a photo of his new fiancé. "Starting off the year with a new fiancé," he wrote. "A great way to kick off 2013!"

Troye Sivan, actor
The actor who played young Wolverine in X-Men Origins: Wolverine used YouTube to come out. "It feels kind of weird to have to announce it like this on the Internet," said the 18-year-old, who came out to family three years earlier, "but I feel like a lot of you guys are genuine friends of mine. I share everything with the Internet."
Victor Garber, actor
When asked by a reporter in January about the veracity of a Wikipedia entry that claimed the actor — who starred in Titanic and the TV series Alias — was living in New York with his partner, Garber said "I don't really talk about it but everybody knows." Garber also played San Francisco mayor George Moscone in Milk, and has four Tony Award nominations and six Emmy nominations.

Sebastian Ligarde, actor
The former Mexican soap star is known as a villain on Quinceañera, and he came out in an interview in June with TVyNovelas magazine. "I'm gay and I say this with pride. No gay person should have to walk down the street with stigma stamped on his forehead," he said. "Sexual [orientation] is genetic... and if God and my family knows it, then let the world know it."

Ben Whishaw, actor
He delivered an impactful performance in Cloud Atlas playing gay, but Whishaw might be best known as the new Q in the latest from the James Bond series, Skyfall. Whishaw married his partner a year ago, he told the Daily Mail in August. A spokesman for the actor said Whishaw had "never hidden his sexuality."
Michelle Rodriguez, actress
In an interview with Entertainment Weekly in September, the Fast and Furious and Girlfight star said she's constantly the subject of speculation about her sexual orientation. "Eh, they're not too far off," she said of the media. "I've gone both ways. I do as I please. I am too f---ing curious to sit here and not try when I can. Men are intriguing. So are chicks."
Maulik Pancholy, actor
The fan favorite from 30 Rock and star of Nickelodeon's animated series Sanjay and Craig was part of this year's Out 100. In November, Pancholy told the magazine he'd just celebrated nine years with his partner. "It feels like a nice time to be celebrating something like that," he said, "especially on the heels of the DOMA and Prop 8 decisions."
COMING OUT IN MUSIC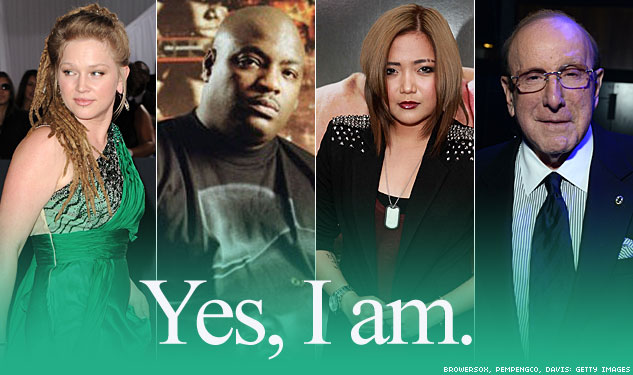 Above from left: Crystal Bowersox, Mister Cee, Charice Pempengco, Clive Davis
Crystal Bowersox, singer
This holiday season, the former American Idol contestant released a new song with a pretty straightforward message — "Coming Out For Christmas." Later she tweeted that, yes, she's bisexual. "The holidays are here, and it pains me to think that anyone would be left alone or be forbidden to be with their family over something as silly as their sexual orientation," she said about the song when it was released. "I hope it will serve as a holiday anthem for people who may finally have the courage to live their life as their true authentic self."

Mister Cee, DJ
The well known New York hip hop DJ for Hot 97 offered his resignation when gay rumors wouldn't stop — but it wasn't accepted. And Mister Cee came out, even recording a PSA for the AIDS Healthcare Foundation in which he tells viewers that "I got tired of lying and hiding," and "you don't have to lie and hide no more about your sexual freedom."

Charice Pempengco, singer and former Glee star
While doing an interview back in the Philippines, where she is a musical pop star, the former Glee star (she played Sunshine Corazon in the second season) was asked about gay rumors. "Yes, I am a lesbian," she said. Then she added, "Now I feel free."

Clive Davis, record producer
The music icon who helped launch the careers of Whitney Houston, Bruce Springsteen, Janis Joplin, and Kelly Clarkson came out as bisexual in his memoir and discussed it for the first time in interviews in February. The 80-year-old said he'd been in a relationship with a man for seven years and "Bisexuality is misunderstood; the adage is that you're either straight or gay or lying, but that's not my experience," he wrote. "To call me anything other than bisexual would be inaccurate."