© 2023 Pride Publishing Inc.
All Rights reserved
Scroll To Top
Top 7 Moments of "Schitt's Creek" S6 Ep3: "The Job Interview"
Prepare for Take-off
It looks like we're in a traveling mood in this week's episode of Schitt's Creek, as Stevie and David (?!) apply for a flight attendant job and Alexis gets impatient to reunite with Ted while he's away in the Galapagos Islands. (And then there's Moira who can't wait to leave town, but what else is new.)
Meanwhile Johnny and Roland are struggling to get the funds to expand the Rosebud Motel brand, now that Stevie is out; but Bob from Bob's Garage might be able to help them if they play their cards right. Also, there's a turtle!
This is all going to make sense in a minute, I promise.
SPOILERS AHEAD
.
.
.
.
Cybersex
Ted's back! Well, kind of--he finally gets on a Skype call with Alexis on their anniversary, after going off to explore the biodiversity on the Galapagos Islands for more than a week. He's looking all tanned and beardy, which apparently really does it for her, because she's getting ready to put on a little show for him when her entire family comes barging in. "What have I told you about putting your body on the internet?" Moira scolds. "Never, never without proper lighting!"
Initial horror aside, this must be pretty fun for David, since he went through a similar ordeal when he was dating Jake at the beginning of Season 3. (You remember that cold open, with the "I haven't bedazzled anything since I was 22" joke? The moment Schitt's Creek went from "this is pretty funny" to "this is getting good"? Fun times.)
Larry Air
Stevie asks David over to her apartment because she needs him to pick an outfit for her job interview with Larry Air, a local airline that sounds more than a bit sketchy. He does put together a nice look for Stevie, but he also gets into a competition with her to land the flight attendant job, which has nothing to do with any feelings of insecurity over his best friend potentially leaving town, no sir.
What exactly is David's plan here, anyway? Ditch Rose Apothecary and actually become a flight attendant just to annoy Stevie? (Patrick would love that.) Get the job and then go "never mind, you should hire my friend instead"? I'd almost wonder if he's trying to undercut the whole thing to keep her close to him, except Stevie is the one who put him up to it.
The bratty brother/sister dynamic between the two of them is really fun to watch, at any rate. I've missed it.
Ted the Turtle
After reading a bunch of blogs about how to manage long-distance relationships, Alexis decides she needs to create a shared experience with her boyfriend and gets herself a pet turtle to take care of. I'd frown at her for carrying the turtle around in her purse like a chihuahua, but since Dr. "I'm a Serious Animal Expert" Mullens over here has been bench-pressing endangered Galapagos tortoises, I can't really be too hard on her.
Of course Ted the turtle immediately escapes, and Alexis has to run to the cafe to see if she left him there. (Which would be bad for the cafe, because turtles carry salmonella. Make responsible pet choices, people.) It's all very cute and funny until Alexis' anxious chat with Twyla reveals the strain this long-distance situation is putting on the relationship. "Turtles thrive out of captivity"? What does that mean, Twyla???
I'm just gonna say it--I'm worried about Alexis.
Patrick's Clothes
Stevie and David arrive at Larry Air for the open call job interview, both dressed to impress--which for Stevie means "literally just tuck in your shirt and maybe don't wear Chucks this time," but she looks good. David, on the other hand, has raided Patrick's closet for work appropriate attire
I have to admit, I played myself here. I went into this season going "haha, David's designer sweaters are gonna be sooo crazy!" only for David wearing a plain button-down shirt to be the thing that completely weirds me out. I'm not even saying it looks bad on him, it's actually a good fit, but it's just... Oh, what's the word I'm looking for...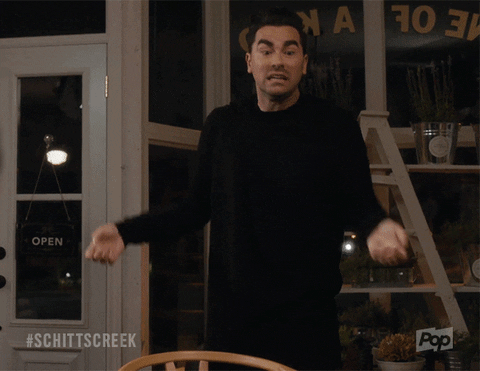 Yes, that.
Anyway, Patrick is now required to borrow a designer sweater by the end of the season. I don't make the rules.
Bob and Gwen
This is the punchline of a long-running inside joke on Schitt's Creek, which made me laugh and then feel like a total jerk, because Bob has had a rough time of it. Throughout the series, his wife Gwen has seemed like this sweet old lady who sings with the Jazzagals, but Bob is constantly talking about how he can't keep her happy. She's locked him out of the house, told him not to come home if he can't get a council vote through, and said she won't wait for him if he ever went to prison. Just last season, Patrick had to recruit David to play baseball after Gwen dropped out to "visit a friend she met on the internet."
When Johnny and Roland fail to get a bank loan for the new motel and look around town for potential investors, Bob's thriving garage business and his new, expensive leather suit make them think he has money to spare. But it turns out Gwen decided she's into "bad boys" and has left Bob for their minister. That's hilarious--but seriously, poor guy.
David the Flight Attendant
As part of his Larry Air interview, David does a skit about how to deal with a crying baby--and wow, the Rose siblings really do not understand what airlines are like for us peasants in Economy. (It is an illuminating glimpse into Dan Levy's fraught relationship with air travel, however. Do yourself a favor and search his Twitter feed for the words "flight" or "cough," it's a whole thing.)
Is it bad that David as a flight attendant still sounds really fun to me, even though he'd be useless in emergencies and straight-up rude to moms with babies? That's bad, isn't it.
Despite his impressive double finger point technique, David doesn't make it to the final round of the interview and takes an embarrassing loss from Stevie, who ends up getting the job. On the upside, I'm expecting big things for the "TAKING THE PEANUTS, CAROL" animated GIF that the Schitt's Creek team has no doubt already made.
Anniversary Dinner
Ted puts a sweet ending on a stressful day for Alexis by setting up a romantic anniversary dinner at the cafe and attending via Skype. He books a limousine to pick her up, even though the motel and the cafe are within walking distance--but I like the idea of Alexis riding around in the limo drinking champagne before she goes home for the night. Very smooth, Ted.
I love that Alexis wonders if the limo might be an abduction ploy, as if that's happened to her at least once before and it's so annoying, ugh, but then decides it's safe because the driver doesn't blink. Also, I absolutely believe she can get that dressed up in five minutes when she wants to.
Honestly, the Ted/Alexis relationship doesn't get the credit it deserves sometimes. They're very cute together and bring out the best in each other, but unlike David and Patrick who are heading in a pretty specific direction, I can't really guess where Ted and Alexis are going to end up. This might become one of the most interesting plotlines of the season.
<<< PREVIOUS EPISODE: "The Incident"
NEXT EPISODE: "Maid of Honor" >>>
Schitt's Creek airs on CBC in Canada and Pop TV in the United States.