7 Queer Poets You Should Know
BY

Daniel Reynolds
November 18 2013 7:00 AM ET
"HI" by Eileen Myles
for Steve Carey
You made me smell.
I didn't smell at
all before I met you
smells are pouring out of
my clothes, feet, my
socks my hair
this is gross
you've made me monstrous
and I love it
I knew a man who laughed
at himself
for being this way
stinking of love
it was what he was
a stinking factory of his love
lying there all day
going out to get a smoke
I'm the east coast version
of that
since I met you
since the era of my famous
resistance to you ended
it began like the wind
I am a window to the world
the mailman can see me
he waves; children out there playing
it's even this way when I'm out
there
except when I hold your hand
I want it; to be this exception
I've become
not a woman or a man
The heart pumps
the man is dead and it's
spring
it's a smelly season
don't you think
the earth knows
the bugs are beginning to look
around
you're throwing your mother's
old stuff out
your friends are beginning
to understand
I want to show
mine something different
the ripples I've become
I'm influence
the way language changes
and rocks heal & burn
meat stretches
your little round animal
face keeps coming around
the corner but
oh no now you're coming down
I'm looking up
Excerpted from Snowflake/different streets by Eileen Myles. Copyright 2012. Excerpted with permission from the author and Wave Books.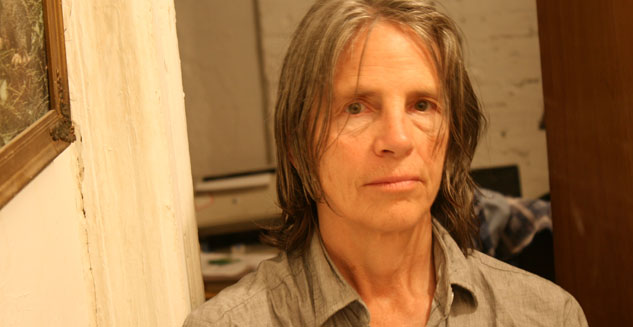 Eileen Myles is the author of more than 20 books of poetry, fiction, nonfiction, plays, and libretti, including Snowflake/different streets, Inferno (A Poet's Novel), The Importance of Being Iceland (for which she received a Warhol Creative Capital Art Writers Grant) and Sorry, Tree. A former director of St. Mark's Poetry Project, Myles campaigned as an openly female write-in candidate for U.S. president in 1992. She received a Guggenheim fellowship in 2012. She lives in New York.