Your Queer Guide to Comic-Con
BY

Jacob Anderson-Minshall
July 17 2013 4:08 AM ET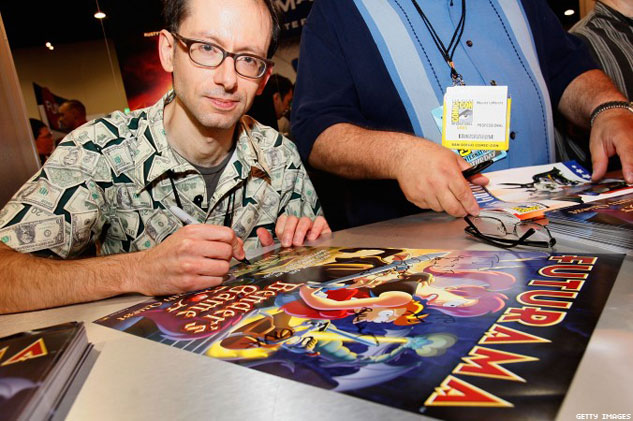 Futurama
We're dooooooooomed! Celebrate/bemoan Futurama's latest and greatest final season with most of Futurama's legendary voice cast, (Billy West, John DiMaggio, Katey Sagal, Maurice LaMarche, Tress MacNeille, David Herman, Phil LaMarr, and Lauren Tom). The panel (which also includes executive producer David X. Cohen, creator Matt Groening) will also perform scenes from the upcoming "Last Episode Ever." Missed the "Proposition Infinity" episode and wondering how queer Futurama is? Check out editor at large Diane Anderson-Minshall's interview with Billy West. Saturday, 12 p.m. - 12:45 p.m.
---
Although they may not be featured guests of Comic-Con 2013, it's likely you'll find your other favorite artists and comic books somewhere in the enormous San Diego Convention Center. Keep your eyes open for these Advocate recommended:
- Darren Davis, the gay founder and publisher of Bluewater Productions (and author of HIV-plus comic book Lost Raven).
- Dylan Edwards, the trans guy whose Transposes separates gender from sexuality, illustrating six true stories of transgender men who also happen to be queer.
- Jennie Wood, transgender author of Flutter, Volume One: Hell Can Wait a graphic novel that utilizes a supernatural protagonist to explore transgender and queer experiences.
Sarah Leavitt, lesbian author/artist of Tangles: A Story About Alzheimer's, My Mother, and Me, the dramatic graphic novel about losing her mother to Alzheimers.