SheZow Bends Gender, Enrages One Million Moms
BY

Savas Abadsidis
July 08 2013 4:00 AM ET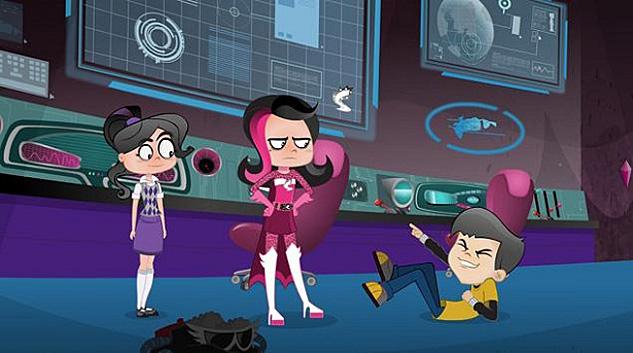 SheZow continues in the same vein as programs like Shazam!, arguably its closest topical contemporary. When young Billy Batson says the magic word, he becomes the mighty Captain Marvel. Whereas Guy needs a magic ring in addition to the mystical phrase, the parallels are obvious.
"Secret identities lay at the core of much superhero fiction, and some heroes go through greater transformations than others," said Andrew Wheeler at the blog Comics Alliance. "The simple notion of a male hero with a female alter ego is well within the bounds of the genre — and of the medium of children's animation. In essence, SheZow is a girl superhero in the same way that Batman is a bat superhero; right down to Batman having a Batmobile and SheZow having a Shehicle. There really are a lot of she-based puns."
Legendary animation producer Bill Schultz agrees that Wade's creation is situated squarely inside well-worn comic tropes. "It really seems like a nonevent," says the creator of Nickelodeon's Wild Grinders. "It is a cartoon. It is nothing more. This kind of gender-bending and cross-dressing is as old Milton Berle. But if the leadership of our country really wants to focus on this as an issue, it shows why there are so many problems facing our economy. Stop watching kid cartoons and get to work on important issues."
That's precisely the kind of hyperbole the Hub has been trying not to court.
"Since SheZow premiered, we have heard from viewers who support the show and are happy Hub Network is airing it as well as from those who view the premise of a 12-year-old boy inheriting the superhero powers of his deceased aunt as inappropriate," says Hub Network spokeswoman Joanna Massey. "We decided to broadcast SheZow because we see it as a lighthearted animated comedy that capitalizes on a concept that goes back to some of the earliest cartoons like Bugs Bunny, who could make kids laugh out loud by wearing a dress and a wig."
Responding to One Million Moms' charges of a secret queer agenda, Massey promises that "Hub Network is dedicated to providing quality entertainment that is enjoyable for kids and their families. We want to assure our viewers that there is no other agenda in the show but to entertain, and we appreciate that our viewers have differing opinions on this program."
There is some evidence that a proliferation of gender-neutral characters is on the horizon. Angry Panda was named brand mascot of the year in 2009 by Advertising Age.
"With a little sleuthing I was able to find out that a Los Angeles viral-media mischief-maker named Shawn Socoloff is the man behind the beast," wrote Ad Age's Simon Dumenco. "When I reached him by e-mail, he remained cagey about what his panda is all worked up about. No matter. Me — I don't care why Angry Panda is angry. I just appreciate the fact that, clearly, he feels my pain. He is a mascot for our times."
When contacted about Angry Panda and SheZow, Socoloff issued a matter-of-fact statement. "There are certain universal themes and concepts that resonate across multiple audiences, that are not contained by typical gender stereotypes," Socoloff explains.
At the end of the day, perhaps no one has embraced more enthusiastically what SheZow could represent — and what the future heralds — than gay producer Howard Rosenman.
"The unbridled creativity of our TV artists are pushing forward the mainstreaming of gender-bending media heroes and heroines," says Rosenman. "A boy wearing girls' clothes to fight villainy is beyond brilliant. Soon there will be no differences, on an equality basis, between genders. Just like Will & Grace provided 'normal' contextualization of LGBTQ persons, SheZow too will provide 'normalization' to cross-dressers, transsexuals, FTMs, MTFs, transgender [people], queers, genderqueers, transvestites, drag queens, drag kings, girlfags, boydykes, and 'warrior princesses.' Thank trans- and cis-God!"