From Surviving the Streets to Thriving In San Francisco
BY

Jase Peeples
August 09 2013 6:00 AM ET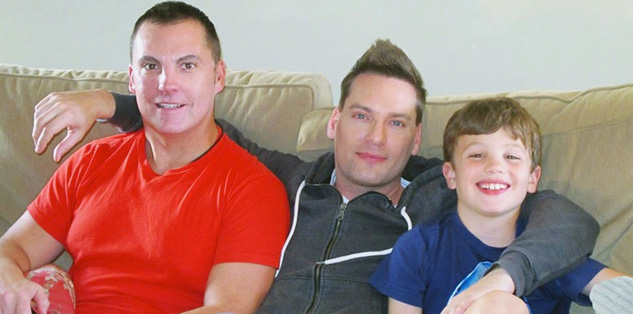 Above: A family photo of Paul, Neil, and Zach from 2013.
Neil went back to school, earned his G.E.D. and in 2004, met the man who would become his husband, Paul. The two connected instantly, and when Paul revealed he had a 10-month-old son from a previous marriage, Neil was even more enthralled.
"I immediately knew Paul was the person I wanted to spend the rest of my life with," says Neil. "And the moment I saw Zach, I knew I wanted to be a part of his life too."
As Neil and Paul's relationship blossomed, the two moved in together, and Neil soon found he had not only gained a partner, but a whole family. "I was always told I would never have children because I was gay," he says. "But even though Zach is not my biological child, he is still my son in every way. I've seen him take his first step, and heard him say his first word. I can't imagine not being there for any big moment in his life."
Four years later, when Zach's mother — who shares joint custody with Paul — moved to San Francisco, Neil and Paul decided to move as well, because they wanted their son to stay close with all of his parents. Once there, Neil quickly found another job as a project manager at an advertising agency, thanks to the years of experience he had building his career in Boston.
Neil's new family flourished in the City by the Bay as Zach began attending elementary school, spending alternating weeks between his mother's home the one Neil shares with Paul. "Sometimes it's strange to look at how far my life has come," says Neil. "I've gone from not being accepted as a gay teen, and feeling worthless in an abusive relationship, to having a successful career and a beautiful family."
Last year, Neil and Paul decided they would marry once their relationship could be legally recognized. And with the Supreme Court's recent rulings in favor of marriage equality, the couple is planning to officially tie the knot in October —exactly nine years after they met for the first time in Boston.
"With all I've been through I can't believe I'm going to get to legally marry the man I love," says Neil. "When I was at my lowest point, I never thought I'd get out of that dark place, but I did it and I never hid who I was."
In addition to his personal life, Neil continues to excel in his career. He is now the head of project management for an advertising agency in San Francisco, but he doesn't shy away from the horrible experiences of his past. Instead, has worked with several organizations, including the Gay Domestic Violence Project in Boston, to share his story in hopes of helping and inspiring others.
"I always say if my story can help just one person, that's good enough," he says. "We may not be able to control the things that happen in life, but we can control how we react to them. I really do believe we create our own destiny and if you believe in yourself, you can do anything you want in life."