Your Queer Guide to Comic-Con
BY

Jacob Anderson-Minshall
July 17 2013 4:08 AM ET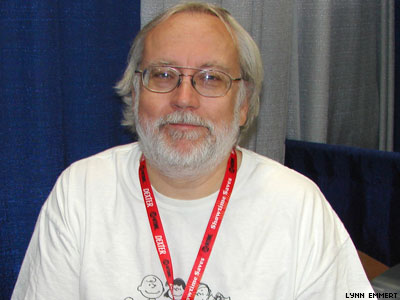 A Tribute to Kim Thompson of Fantagraphics Books
This year Fantagraphics Books — which publishes queer titles including the wonderful trans youth graphic novel series from Japan, Wandering Son — lost its long-time publisher, Kim Thompson. Among those celebrating his life and career is Love and Rockets co-creator Gilbert Hernandez, whose Julio's Day is probably the best gay-themed graphic novel out this year. Friday, 2 p.m. - 3 p.m.
Gays Comic Fan Mixer and Silent Auction
The annual Prism Comics Gays Comic Fan Mixer and Silent Auction, benefits the nonprofit organization that supports gay, lesbian, bisexual, and transgendered comics, creators, and readers. Mingle with comic books fans and creators and stay for the special drawing of "Comics Gift Basket" and a silent auction of items like original art. Saturday, 7 p.m. - 8 p.m.
End Bullying! Responding to Cruelty in Our Culture
It may not be exclusively the domain of LGBT folks, but, unfortunately, any talk of bullying has to address the unequal targeting of queer, trans, and gender-variant kids. This panel discussion hopes to offer ways to overcome bullying, including strategies to create witnesses and allies out of bystanders. NoH8 founders Adam Bouska and Jeff Parshley join Jane Espenson (Once Upon a Time), Brad Bell (Husbands), Chase Masterson (Doctor Who: Big Finish), Bonnie Burton (Girls Against Girls: Why We are Mean to Each Other and How We Can Change), Jenna Busch (entertainment editor, Fan TV), and Ashley Eckstein (Star Wars: The Clone Wars). Topics include geek bullying, LGBT bullying, and cyberbullying; and how media affects attitudes toward bullying and aggression. Moderated by author Carrie Goldman (Bullied: What Every Parent, Teacher, and Kid Needs to Know About Ending the Cycle of Fear). Sunday, 4 p.m. - 5 p.m.