Film Reviews Gay Lust for Life After 65
BY

Daniel Reynolds
August 28 2013 7:00 AM ET
Dee fixes her hair in the mirror before bending down to zip up pink knee-high boots over fishnet stockings. "Tonight's the big event," she says, before sashaying to the salon for a makeover. Heads turn as Dee, 80, struts through the casino level on the cruise ship, the chimes of slot machines and quarters ringing in the air.
Dee, who identifies as Dennis when dressed in men's clothes, is one of the heroes of Before You Know It, a documentary on LGBT seniors that has been touring film festivals, including Outfest, throughout the past year. Directed by filmmaker PJ Raval (Trinidad), the film tells the story of aging in a modern world, as seen through the eyes of three gay men from different backgrounds and regions of the United States.
Not every moment in the film is joyous. LGBT seniors are a particularly vulnerable group, facing higher rates of poverty and depression than their straight peers. More than half of elders report depression, and 39% have considered suicide, according to a 2011 federally funded nationwide study. These grim statistics stem from issues related to a lifetime of discrimination, manifested in isolation from family and friends, unemployment, and maltreatment and prejudice at assisted living facilities.
While these sobering truths are touched upon in Before You Know It's three stories — dealing with Dennis, a Navy veteran and widower estranged from his family; Ty, a New Yorker seeking to marry his longtime partner; and Robert, a gay bar owner in Texas struggling to keep his business afloat — the film is a far cry from a tale of woe. Rather, Raval has crafted a film that, true to its title and subjects, frankly acknowledges the inevitability of growing old, while encouraging viewers to do the same. In the process, he dispels many of the negative stereotypes associated with aging and the elderly.
"I love the idea that life doesn't become stale," Raval says. "That you're constantly figuring out who you are and changing and evolving and adapting. And Dennis, when I met him, that's what immediately intrigued me about him."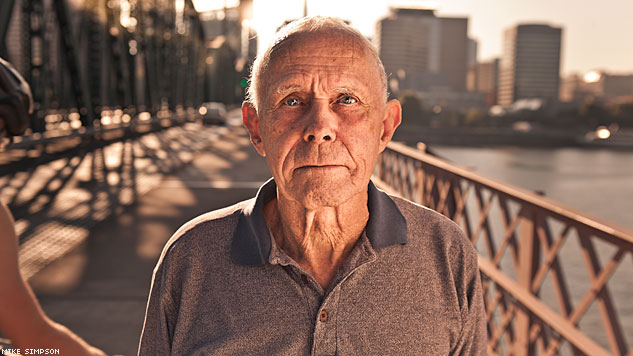 Above: Dennis