Op-ed: Seth MacFarlane Isn't The Problem
BY

Victoria A. Brownworth
February 28 2013 6:30 AM ET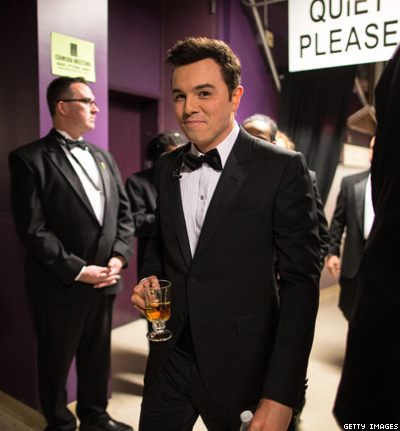 The fabulous Dame Shirley Bassey, 76, was magnificent as she performed her signature Bond song, "Goldfinger," yet has had obvious plastic surgery. But Jack Nicholson, 75, the godfather of Hollywood, was sitting in his prime Academy seat, jowls and wrinkles and wattles on wanton display. And after the ceremony Nicholson was filmed hitting on 22-year-old Best Actress winner Jennifer Lawrence, while she was being interviewed by ABC anchor George Stephanopoulos. How outraged would people have been if Bassey had been hitting on Daniel Radcliffe, 23, whereas Lawrence literally putting her head in her hands and whispering to Stephanopoulos, "Is he still there?" was just "cute."
And speaking of Nicholson, one of the references made in the feminist blogosphere was to Roman Polanski having raped a girl at Jack Nicholson's house — as if both Nicholson, who was out of town when the crime occurred, and MacFarlane, who was 3-years-old at the time of the 1977 rape, were active participants. (And as if Jodie Foster herself hadn't starred in Polanski's film Carnage last year. It's not like many of Hollywood's female elite haven't just shrugged off Polanski's crime.)
MacFarlane's reference to Chris Brown and Rihanna's abusive relationship was also called out as anti-woman. Yet numerous feminist bloggers and columnists, myself included, have written repeatedly about Brown and Rihanna and their relationship. In a recent interview, Rihanna told Oprah that she is in love with Brown and doesn't want to discuss the domestic violence. And at Brown's most recent court appearance for punching out singer Frank Ocean, Rihanna was there to support Brown. In addition to which, Brown has still been embraced by Hollywood and the music community. Despite his abuse of women (ABC anchor Robin Roberts was another of his victims) and gay men.
Which was kind of MacFarlane's point.
The reality is, MacFarlane got slammed for every misogynist in Hollywood as well as every man – and woman – who has held unrealistic expectations of female stars while male stars have been allowed a vast range of appearance and un-Botoxed expression. Women have to show their breasts to get noticed regardless of the circumstance of their roles while male frontal nudity is almost wholly banned from the movies. Breasts only get a PG-13 rating while penises get the box office death of an NC 17.
I live-tweeted the Oscars and repeatedly stated "Best Oscars Ever!" in those tweets. I still think this was among the best Oscars' presentations and a major reason was the imprint of women on the ceremony.
I liked seeing over-sized women like Melissa McCarthy, Adele, Octavia Spencer and Queen Latifah among the participants. I liked seeing the elderly Emmanuelle Riva and Shirley Bassey as well as Oscars' many vibrant older women, like Meryl Streep, Sally Field and Barbra Streisand.
I loved seeing Brave win for Best Animated Feature, because it's a story about a girl who succeeds on the basis of her own merit – and bravery – and has nothing to do with a prince swooping in to save her. I loved seeing Inocente win for Best Documentary Short: the subject is a 15-year-old homeless girl artist in California. I loved seeing Daniel Day-Lewis laud Meryl Streep for her superb acting skills and Jennifer Lawrence thank all the women who are such magnificent actors — and her mentors — after she won for playing a real woman with real problems.
I also loved seeing the tributes to music in film which lauded both women performers and the gay male directors, like Bill Condon (Chicago, Dreamgirls), who made these vehicles work.
It's not that women don't have a lot to complain about with regard to Hollywood: it took 81 Oscar ceremonies before a woman won Best Director (Kathryn Bigelow, for The Hurt Locker), even though it was largely women directing and doing the very complex film editing throughout the early days of Hollywood. But for nearly 50 more years there were few women directing for major Hollywood films and there have only been four women ever nominated for Best Director: Lina Wertmuller, Jane Campion, Sofia Coppola, and Kathryn Bigelow. Eight other films directed by women have been nominated for Best Picture, but without their directors being nominated, including Children of a Lesser God, Prince of Tides, Little Miss Sunshine, The Kids Are All Right, and Awakenings, which all won other major awards.
In addition, the unrealistic images of women that are promoted by the film industry are what have allowed film critics like Rex Reed to call actresses like Melissa McCarthy "hippos."
So I get why some women were angry with MacFarlane, even though he wasn't the author of most of the jokes. (Bruce Vilanch, a gay man, has been the head writer for the Oscars since 1989 and has won several Emmys for his writing.) MacFarlane was the messenger and the message from Hollywood isn't always a good one for women.
Yet as Vilanch said in an interview with Salon, the show is scripted, every presenter has to sign off on whatever it is they say on-stage in advance of the ceremony so it can go up on the teleprompter. Women as well as men. The only impromptu moments are the speeches of the winners.
But in real life, outside of his Oscar hosting activities, MacFarlane has been a staunch supporter of women's and LGBT rights and donated more than a quarter of a million dollars to the Democratic Party in support of liberal causes. In 2011, he was awarded the Humanist of the Year Award by Harvard University for "his extensive body of work, his active, passionate commitment to Humanist values, and his fearless support of equal marriage rights and other social justice issues."
MacFarlane isn't a Mel Gibson–Holocaust denier, racist, wife-beater. He's one of the good guys. Were some of the jokes tasteless? Yes. Did MacFarlane repeat them anyway, even though he occasionally said throughout the telecast, "I thought we decided not to do that one." Sure. But most of these jokes have been done on late night TV and nearly every day Huffington Post has another "actress reveals side-boob" video. This morning, after the Oscars, one of the lead pieces on Huffington Post was about Anne Hathaway's nipples showing in her gown (which were actually just sewn-in darts, for the record) and Jennifer Lawrence showing "side boob."
Maybe MacFarlane was just a messenger. And the message actually is coming from us. No wonder we're upset.
VICTORIA A. BROWNWORTH is an award-winning journalist and a former Advocate columnist. Her columns appear in the Philadelphia Chronicle, the San Francisco Bay Area Reporter, and Curve magazine, among others.