Right Time, Right Place
BY

Aaron Hicklin
June 28 2013 4:00 AM ET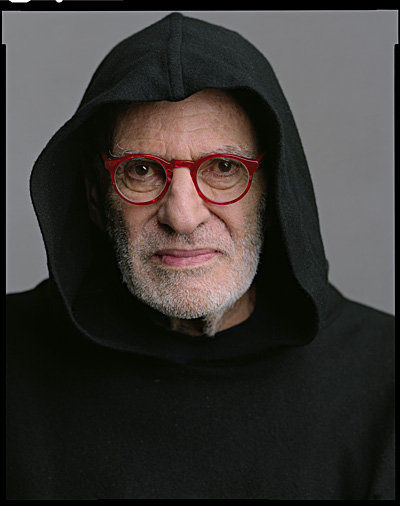 At left: Larry Kramer
In many ways, the documentary finds Greenfield-Sanders back in the world of Tally Brown, hanging out with the self-proclaimed freaks and outsiders forced by an often hostile society to fall back on their own resourcefulness. There's a wonderful moment when the famously volatile Larry Kramer recalls the life-and-death struggle in the 1980s to shake Americans out of their complacency to AIDS. "You do not get more with honey than with vinegar," he says. "Anger is a wonderful emotion, very creative — if you know how to do it." For Greenfield-Sanders, who witnessed many friends die of AIDS in the '80s and '90s, Kramer's contribution is the most affecting "because at a certain point, people don't remember AIDS, even, and they don't understand."

Kramer is one of a cacophony of voices that remind us that the LGBT experience is more diffuse and less cohesive than, say, the experience of black Americans. For a start, some of us are black Americans, or — like Janet Mock — black transgender Americans. Put Mock alongside Lady Bunny and Suze Orman and Wade Davis and Neil Patrick Harris, as Greenfield-Sanders has, and you begin to see the challenge of talking about a collective LGBT experience. If there is one unifying theme running through the interviews in The Out List, it's that we all have the power to define who we are. That can hardly be truer than it is of Lupe Valdez, a Hispanic lesbian Democrat elected sheriff in the Republican district of Dallas County, Texas, in 2004. She recalls the sage advice of a state legislator not to allow the election to be defined around her sexuality, but to define it instead around her values. That is the tricky high-wire balancing act that all LGBT people are challenged with: embracing our sexuality or gender identity, while refusing to be reduced or boxed in by it.

For Dustin Lance Black, being known as a gay filmmaker and writer is not just a point of pride, but a responsibility. "I'm not going to run from that label," he says in the film. "I am a gay filmmaker. I'm not ashamed of that." At the same time, he wants to get to a point when the distinction is immaterial. "I want to be out of the business of civil rights fighting as soon as possible," he says shortly after recalling the bitter sense of defeat he felt on the morning of November 5, 2008. The same ballot box that had swept Barack Obama into the White House had revoked the rights of gay and lesbian Californians to marry, a result that Black believes cost lives.

But the very fact that The Out List includes people like Harris and Wanda Sykes — entertainers who have come out of the closet fairly recently — is a testament to a dramatic shift in the narrative. Change is coming, and faster than many predicted. It's left largely to Christine Quinn, speaker of the New York City Council and a candidate for mayor, to sound a note of triumph. "If you had asked people 10 years ago, 'Would, in 2011, New York State pass marriage equality?' — if you told them Massachusetts, Connecticut, all these other states had it — they would tell you you were nuts."

You might ask what qualifies Greenfield-Sanders to take his lens to communities that he is not intrinsically a part of. It takes a certain kind of audacity, after all, to map such emotional terrain, but the cool gaze of the outside observer also helps keep The Out List from being overwrought or didactic. In many ways, Greenfield-Sanders is doing exactly what he's always done with his photography: documenting human lives. Only once, at a screening in Houston of The Black List, has anyone questioned his motivation. "A black guy got up and said, 'How come you, this white guy, are doing this project?'" Greenfield-Sanders didn't beat around the bush or choke on his own justification. "'Cause it was my idea," he replied.

It always comes down to timing in the end.