One Gay Artist vs. India's 'Moral Police'
BY Christopher Harrity
January 03 2014 6:00 AM ET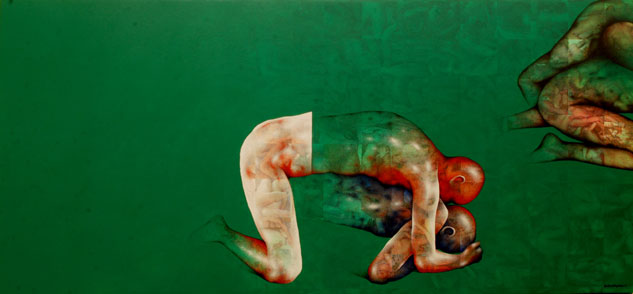 This Is Not Dark Life
Acrylic on canvas
55" x 55"
The Advocate: How was it that the exhibition at the Muse Art Gallery in the southern Indian city of Hyderabad came to be censored?
Mike Giangrasso: Like many of us, my partner, artist Balbir Krishan, had a rough time growing up gay. That his life was acted out in rural northern India made for some added drama. By his late 30s he was like a caged cat pacing against a glass wall. He opened "Out Here and Now" in the big-four city closest to home, Delhi. It was his artistic and personal coming out story. The paintings covered the male body, enigmatic fantasies, erotic mayhem, ennui. The detachment of sex from self. It opened on the second to last day of the year in 2011, in a city and country inexperienced with stuff like that.

It's not the way he wanted to achieve fame. Notoriety arrived when days into the show, a masked intruder entered the exhibition hall as he was rehearsing for a gallery walk, attacked him, and destroyed a painting before fleeing. The stunned former student who was filming him snapped to, dropped his camera and gave chase, while Balbir, who walks with a cane on prosthetic legs, lay on the ground injured. The gallery administrators were in their offices having tea.

The police accused him of asking for trouble and refused to take a report until they were called out by the media, which had picked up the story and reported it as an act of fanaticism and an assault on free expression. Artists and civil libertarians rose in protest. The LGBT community, which Balbir didn't yet know, rallied and convinced him to keep the show going. They provided him and his artwork round-the-clock protection, and friendship. To meet, for the first time in his life, people who identified as gay and proud was a revelation. He'd spent his life in a Jat village in western Uttar Pradesh, teaching art in a school with no running water or electricity by day, and painting at home at night. He'd had no experience with the urban gay scene. He got into Delhi when he was able to scrape enough money together, but only to peddle his paintings at the galleries around town.

No one claimed responsibility for the attack. In India there are groups, organizations, and religious and political parties that routinely move against conduct and expression they judge offensive to traditional Indian cultural and religious values, or of being of Western import. These self-appointed censors hand down condemnations, sometimes under threat of violence, and try to force, often successfully, shutdowns of artistic expression. They are derided as the "moral police" by civil libertarians and the liberal press, but are not always called out by name. They're often spoken of and written about euphemistically. But some wear their intolerance as badges of honor. We see that in the United States all the time, don't we? I came across a post this week on social media from the "Islamic Center for Peace and Prosperity" announcing that a Brother Ilyas would debate a gay rights activist at their cultural center in Delhi on the question of whether homosexuality is good for humanity or not.

Balbir had no idea that any real-life performance of the homoerotic stories his paintings told in Out Here and Now had been illegal in India prior to 2009, when the Delhi High Court struck down as unconstitutional Section 377, the colonial-era law that criminalized all but missionary-position sex, but was used by the police to target, harass, and persecute gays. Balbir had never heard of the law until its dismantling made the news. He'd kept his homosexuality to himself. He'd suffered severe abuse throughout his youth and survived it. He wanted to live his adult years quietly in his village at his family home. He'd succeeded in resisting family pressure to marry. He taught and he painted.

Over a period of several years the conflict between innocence and experience within Balbir mounted, and ended with the disaster at the gallery, in favor of the latter. Today he understands plainly what 377 meant before 2009, and what it means now. Only weeks ago, on December 11, the Supreme Court of India reinstated Section 377. Homosexuality is once again illegal in the country, and once again punishable with penalties of up to life imprisonment.

It wasn't long after "Out Here and Now" closed that Muse Art Gallery curator Kaali Sudheer found Balbir on social media and "liked" his artwork. He and the gallery sent "friend" requests, which Balbir accepted, and the courtship began. Sudheer wanted Balbir to exhibit at Muse. He assured him that its location in the conservative southern Indian city of Hyderabad wasn't an issue. The gallery was housed in a five-star hotel, and security would be in place. People would not be able to walk in off the street. The artwork might not be embraced by the average Hyderabadi, but there were plenty of progressive, queer-friendly people in the city who would celebrate it. They would be specially invited, and they would make a show at Muse a success.

Balbir was interested in the proposition, but he had reservations. He'd spent the last year regaining strength and confidence, but the attack in Delhi was still fresh. Conversations between artist and gallerist continued for more than a year, further reassurance was given, and an agreement was reached. The exhibition would open on a Saturday night, November 30, 2013, and run for two weeks. Balbir sped up work on paintings that were in progress and began new ones. The show would include these, and several which remained in his personal collection, pieces he'd painted over the last three years, including a number from "Out Here and Now."

"My Bed of Roses" began to take shape. We shipped 45 paintings to Hyderabad. Muse put together a 12-page brochure with an essay written by a historian highly regarded in Indian art circles. The gallery offered us rail tickets and to put us up somewhere in the city, but Balbir doesn't get around easily without a wheelchair, so we decided to splurge on a stay at the hotel itself, in order to have quick and easy access to the gallery. Neither did we have the time to travel 24 hours each way on the train. We bought air tickets. Balbir was excited. It would be his first time on a plane. The flight to Hyderabad was full of the awe and wonder one sees in first-graders. I'm a teacher, and I know what that looks like.

We settled into our hotel room on the sixth floor and over the next two days visited the second floor gallery to work out framing details with an assistant. Sudheer wasn't at Muse either day, and we didn't get a call from him, which we thought unusual. We let it drop. On Saturday afternoon the assistant let us know that all was well. We stopped by to see how things looked. The artwork was nicely hung.

We approached the gallery at 7 sharp holding hands, as always when we're out. Though it's far less common than it once was, one occasionally still sees close friends of the same gender hand-in-hand in India. But Balbir and I had other reasons for holding hands. We were lovers. He also needed me for support while walking on his clunky legs of wood and plastic. The sight of him struggling as he walks often evokes concern and sympathy in people, and we've never been questioned about it.