The Year's Top 10 LGBT Moments in Comic Books
BY

Brian Andersen
December 31 2013 11:24 PM ET
For throngs of comic book-reading gay geeks out there, 2013 was a banner year. From loads of on-panel same-sex smooching to newly out characters, queer representation in mainstream comics soared to new heights over the past 12 months – making a celebratory list of the gayest moments in comics an absolute must.
So join us while we strap on the old cape, step into some colorful spandex, and spotlight the year's top 10 most awesomely awesome LGBT moments in mainstream comic books.

10. Uncanny X-Men #14
The X-Men have a number of LGBT characters in their extensive line-up, which makes sense as their entire existence – being feared and hated simply because they exist – is an allegory for our queer reality. From Northstar and the little green lizard boy Anole, to the sexy lovers Shatterstar and Rictor, Marvel's merry mutants are a breeding ground for homosexuality and Uncanny X-Men #14 introduced one more to the fold when team member Benjamin Deeds, aka 'Morph', revealed he's gay.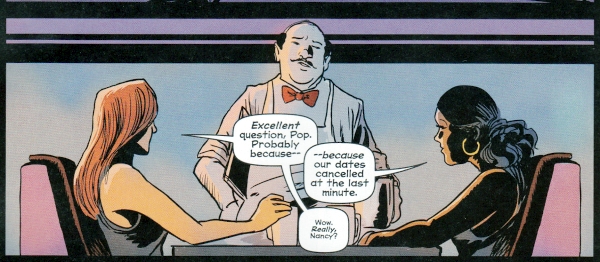 9. Afterlife with Archie # 2
Zombies invade the sugary-sweet, vanilla goodness of Archie Comics in this spooky fun series. Smartly written by out gay author Roberto Aguirre-Sacasa, this gory mash-up of two very different comic book genres works surprisingly well and gets extra points for featuring a lesbian couple. The Sapphic subplot, featuring two queer women of color on the down low – the Latina Ginger Lopez and the African-American Nancy Woods – struggling to accept their same-sex love, this book gives plenty for both horror and gay comic fans to enjoy.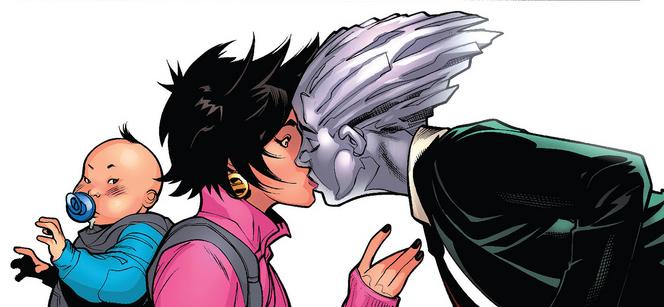 8. X-Men #8
Not only does the adjectiveless X-Men comic book series feature a kick-ass team of ladies (sisters be doing it for themselves, ya'll) but it also serves up some much deserved panel time to the butch mutant Bling – an out and proud, tough as nails lesbian. (And who doesn't love a butch, tough lesbian?) This issue lands on the countdown for giving the former firework-spewing mutant and current vampire, Jubilee, her first lady-on-lady lip-lock with Bling.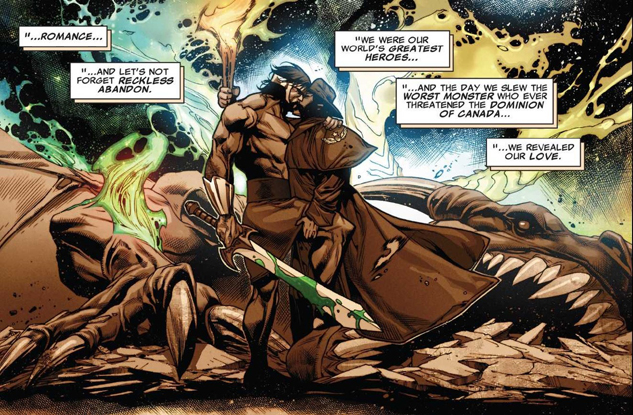 7. X-Treme X-Men #10
And speaking of on panel lip-locks, this recently cancelled series not only showcased gay comic book icon Dazzler in a lead role but it also winningly included an alternate dimensional Wolverine (rocking some gold claws to boot) and an alternate dimensional hunky, gym bunny Hercules k-i-s-s-i-n-g-ing! And man, is it all sorts of hot.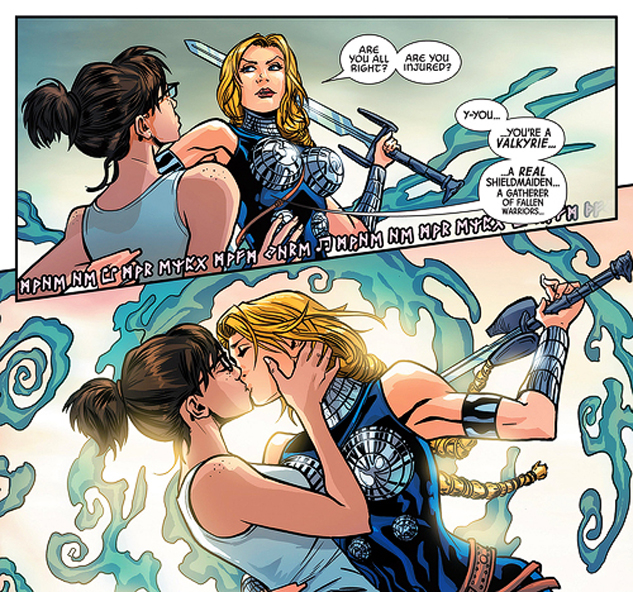 6. Fearless Defenders #12
This also recently cancelled series brought together a wide variety of lady heroes battling the baddies and saving the world. (No, they don't need no male superhero scrubs to get the job done.) From the start of the comic the on panel kissing from lesbian character Annabelle Riggs was prominently featured throughout the series. Annabelle started the book by macking on the Norse buff-babe Valkyrie – the two now share a body (it's a long story) - and ended the book by getting biz-nasty in a tent with the dancer-turned-Inhuman Ren Kimura. It's a shame we won't see more of Annabelle and her liberated sexuality.