Artist Spotlight: Sara Swaty
BY

Christopher Harrity
September 07 2013 4:00 AM ET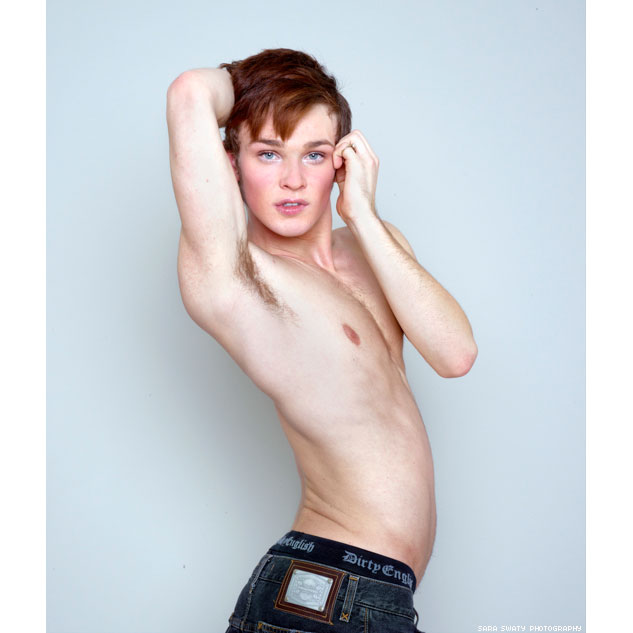 Above: Ben
Photographer Sara Swaty writes, "The idea of gender and the roles, responsibilities, and expectations associated with it has fascinated me for years. Mainstream culture and society impact how we as a people view gender. Where we live and how we are raised dictates our own perceptions of gender, and what is 'normal' or 'weird,' 'right' or 'wrong.' In the spring of 2010, I began a project focused on gender expression, which led me to photograph individuals within both straight and LGBT communities in an effort to capture images that question traditional gender roles and explore identities beyond the male-female binary.

"In all of my photographic endeavors, I strive to create work that offers viewers new perspectives on social expectations and restraints within their cultural contexts. 'In Between & Outside' is a series of portraits that explores gender identity and the body across a broad spectrum of individuals. The works were created with an interest in how cultural preconceptions about gender have created unattainable ideals about masculinity and femininity. Subjects range from those born into a gender they do not identify with to transgender individuals who have physically transitioned and changed their bodies. The images aim to share the personal stories of a gender variant community while challenging stereotypes that LGBT communities face.
"I am always looking for subjects to participate. Contact me at [email protected] if you are interested."

Sara Swaty is an energetic and passionate Los-Angeles based photographer who hails from St. Louis, where she learned to love hiking in intense humidity and cooking Indian food, and developed the compulsive necessity to carry a camera with her at all times.

"In Between & Outside"
Opening September 20
Art of Studio
1346 Abbot Kinney Blvd.
Venice, CA 90291
For more info on the event, go here.

SaraSwatyphoto.com
Facebook.com/saraswatyphoto
SaraSwatyphoto.tumblr.com/
In Between & Outside Project Blog