Icona Pop Doesn't Care (And We Love It)
BY

Jase Peeples
September 27 2013 5:00 AM ET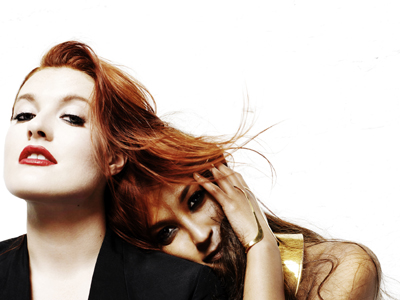 Was your experience performing for an LGBT audience part of what motivated you to base your new music video, "All Night," on New York City's drag and ball culture?
Yes. The song is about finding your element, your way of expressing yourself. It's about finding your people, your home, and wanting to stay there "all night." We're so proud of the way the video turned out because the people featured in it represent everything that song is about. Their story and the way they perform is just incredible, and they're doing it 1,000%, so it couldn't be a better fit. From the moment we met all of them we knew it was going to be perfect.
As has happened with many performing duos of the same sex in the past, rumors that Icona Pop was a lesbian group surfaced almost immediately. But rather than run from it, you both seem to take it in stride and have fun with it. Even your latest album cover seems to be a bit of a wink and a nudge in that sense.
[Laughs] Oh, yes! I usually say I wish I was into girls so I could marry Aino, because we would have the perfect relationship. But that's not the case. Of course people will think what they want to think, but we don't care. We can't stop doing our thing because people talk. Whether we're gay, we're not gay — whatever.
Several of your songs can easily be interpreted as LGBT anthems. "Girlfriend," for obvious reasons, but other tracks from your new album also easily align with a queer sensibility. Were you aware of that when you were writing those songs?
When we were writing and recording in the studio we were just in the moment, and I don't think we had a specific crowd in mind. But afterwards — well, a lot of our songs are about being who you are, expressing yourself, and being proud. So I think that goes hand in hand with the message of equality, because you should be proud of who you are whether you're gay or not. You shouldn't hide it; you should live it out loud.
Another Swedish performer who is adored by the LGBT community is Robyn. Is there any chance we might see a collaboration between you in the future?
I hope so. We love Robyn and think she was such a pioneer in pop music and took it to another level. She's always able to bring both the coolness and strong emotion to her music, which is part of why Aino and I are such big fans. It would be an honor to work with her.
A lot of great Swedish artists have been successfully crossing over into the U.S. market lately. In your opinion, why do you think Sweden is currently a hotbed for great dance and pop music?
I wish I could say for sure, but maybe it's because Sweden is such a small country. If you're good and working hard, you'll eventually have the opportunity to work with someone else who is good or be able to get your stuff out there more easily. Or maybe it's because we have long winters and people stay huddled up inside, writing until summer comes and we get a little bit of that brightness again. But I think maybe, just like so many people in the LGBT community, Swedish people are sensitive to picking up on trends without overdoing it.