READ: Obama Marks Gettysburg Address With Handwritten, Gay-Inclusive Letter
BY

Sunnivie Brydum
November 20 2013 2:26 PM ET
In a clear homage to another history-making president from Illinois, Barack Obama penned a handwritten, 272-word letter commending the "toil and sacrifice" from generations of Americans to advance the equality of women, workers, minorities, and yes, even gay people.
The letter was published by the White House Tuesday, marking the 150th anniversary of Lincoln's historic Gettysburg Address. President Obama reflected on the nation's foundational belief in "the proposition that all men are created equal," noting that the march toward equality has been advanced "through the accumulated toil and sacrifice of ordinary men and women."
"Through cold war and world war, through industrial revolutions and technological transformations, through movements for civil rights and women's rights and workers rights and gay rights, we have," wrote Obama. "At times, social and economic change have strained our union. But Lincoln's words give us confidence that whatever trials avail us, this nation and the freedom we cherish can, and shall, prevail."
Read the full text of Obama's letter on the next page, and see the handwritten letter below.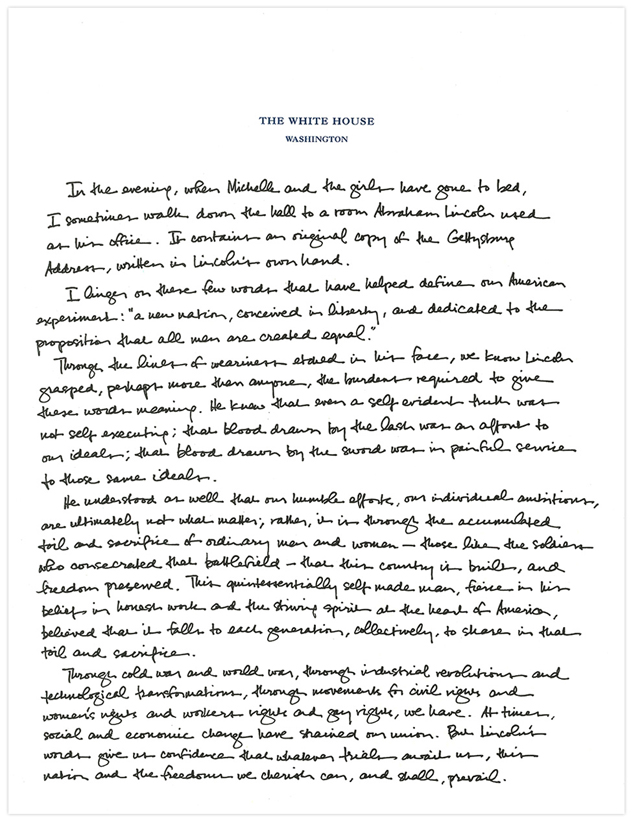 Read the full text of Obama's letter on the following page.