Op-ed: What It's Like Being Trans In Military Academies
BY Brynn Tannehill
December 16 2013 9:07 PM ET
UPDATED:

December 18 2013 11:57 PM ET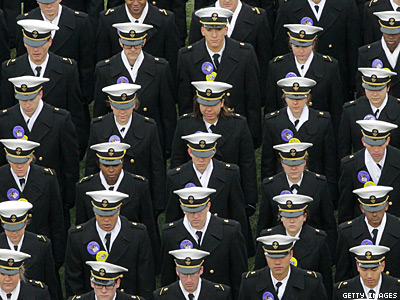 At left: The midshipmen of the United States Naval Academy march onto the field before a game between the Army Black Knights and the Navy Midshipmen last Saturday at Lincoln Financial Field in Philadelphia.
Kris, a transgender midshipman at the U.S. Naval Academy in Annapolis, Md., slated to graduate in 2014, writes:
Before I enlisted, I thought I was straight. During DADT and while I was in A-School [enlisted trade school after boot camp], I figured I was a lesbian. After DADT was repealed, I saw little change. The big thing was that they couldn't kick us out for being gay anymore. But people could still give us the cold shoulder, they could still disagree with us in a very loud way, they could still tell us that we were going to hell because we are gay.

About a year ago, I went back in the closet; I started figuring out that I am transgender. It's something I should have probably figured out a very long time ago, but it's not surprising, considering how late I figured out that I was a lesbian. My fiancé helped me out and is my closest ally. But I can't talk about it in the Navy. I get a short haircut, and people make fun of me. I go to the women's restroom and I get looks, yelled at, or even physically pushed out of the bathroom.

I even get called out on the first day of class when the professor calls roll:

Professor: "[Calls my last name]"

Me: "Here, sir."

Professor: "No, this is for [female name.]"

Me: "Yeah, I got that. I'm still right here."

People say that it's all in the haircut, but that's not true. Even when I had long hair and kept a bun, I was constantly called "sir" and would surprise women when I walked in the bathroom. I am who I am, and no one can change that. I hate that I am back to lying to my classmates and my coworkers.

I hate that I have to lie at all. As a prominent member of Navy Spectrum [the GSA at the Naval Academy] I am constantly told by members and by my leadership that I have to "watch it on the trans stuff," since the military doesn't accept it. Hell, even with our "Safe Spaces" program, we have just been told that we cannot incorporate transgender. Of all the people who need a safe space, transgender midshipmen are on the top of the list.

It took us until this semester to finally get the truth that our counseling center was a safe place for transgender midshipmen. Luckily, a few of us are trusting it and attending regular sessions there. I personally attend a session every week for about 45 minutes at a time. My psychiatrist has been doing a tremendous amount of research in order to help me.

Like I said earlier, it sucks, or is highly uncomfortable, being back in the closet. And it will most likely be the deciding factor of whether I stay in the Navy or leave, so I can live my life the way I know I feel. I believe in service and the Constitutional Paradigm, but if the country I serve cannot protect me or at least treat me with some respect, I think it's time I find a different way to serve.