AIDS, Interrupted
BY

Michael Musto
November 01 2013 4:05 AM ET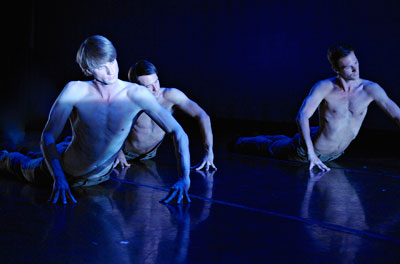 At Left: Scott Marlowe and dancers in Test
TV might be the perfect venue for these films after all. For years, The Normal Heart was going to be produced and directed by Barbra Streisand as a feature film, but there were setbacks, including an ongoing battle between Streisand and Kramer over the focus of the script. Finally, Ryan Murphy (Glee, American Horror Story) was set to direct a movie version, but all of a sudden in January, it was announced as an HBO title instead. (Like Beyond the Candelabra — which ends with Liberace's AIDS death—the big screen can't seem to handle something "too gay," while HBO certainly can. Candelabra was their biggest movie premiere, ratings-wise, since 2004.) With names like Mark Ruffalo and Julia Roberts heading this Heart, it's bound to get an audience, who'll learn about the devastating realities of AIDS's darkest days. The result is further proof that skipping the middleman — Hollywood — might be the most sensible way to go with projects like this, even if that doesn't always happen by choice.

But with a big name playing a hetero lead, the silver screen can still go for AIDS, as long as you're willing to wait over 20 years for it to happen. Dallas Buyers Club spent eons in limbo before making the leap to celluloid, ending a road paved with antsy film studios, fed-up-with-waiting stars, and equally frustrated writers. But Matthew McConaughey worked some manipulations and the film finally ended up getting off the ground, especially since he lost 30 pounds in an eye-grabbing show of commitment. He plays Ron Woodroof, a womanizing, heavy-drinking Texas electrician with AIDS who learns about the extreme toxicity of AZT and fights the big boys to cut through red tape and illegally get alternative medicines out there. How to survive a plague, indeed. Far from Philadelphia, this time it's the hater who's dying ("I ain't no faggot, motherfucker!" barks Woodroof at a doctor), though the actor generously plays Wood- roof's bigotry as bravado covering up the humanity lurking underneath—a caring side that fully emerges as he becomes an activist and fighter.

McConaughey engineered a career shakeup himself last year, dropping his romcom formulas for parts with grit and integrity, and this film — a sobering look at a bold personal attempt to circumvent the corruption of organized medicine—takes it to a potent next level. He's great, and so is Jared Leto as his woozy transsexual friend with AIDS — an endearing creature escaping a righteous dad while longing to stay alive. Maybe we needed 20 years before we could get an AIDS hero as complicated as Woodroof.

For a gay lead grappling with AIDS issues, you have to go back to the really small films, like Chris Mason Johnson's beautifully observed Test, in which a dancer in 1980s San Francisco faces the mounting panic that's making everyone uncomfortable with their bodies — and everyone else's too. The film studs its plot with modern dance numbers, as well as backstage glimpses at dancers searching themselves for irregularities. It ends with a wry comment on whether gay monogamy will be the answer — the kind of modern touch that makes today's period films about AIDS all the more haunting.
Next up for AIDS cinema: the 1990s?