Catherine O'Hara Talks About Monster in Paris
BY

Diane Anderson-Minshall
April 16 2013 7:31 AM ET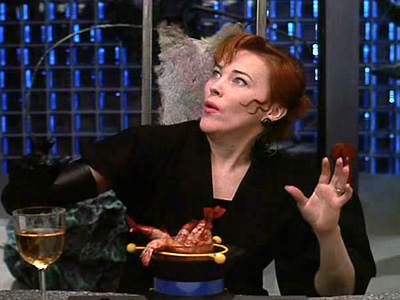 You are no stranger to playing women who deserve some disdain. I'm thinking of your very famous role in Beetlejuice, for example. What do you draw from to play those women?
[Laughs] I draw on the script, of course, but I'm sure I have a lot of my lesser self to draw upon as well. I have my bad days, and I come up with plenty of stupid things to say or do. Sometimes I'm weak and walk into a mess, but on better days I stop myself, take note, and save it for a fun role. I usually end up defending those characters because I get into them. Bad people justify their behavior as much as anyone else — and perhaps even more.

When you look at scripts, do you take them at face value or do you try to read between the lines to develop your character?
A great script will draw me for many reasons, and more than Oh, I have to have this role, I'll be thinking, Oh, I'd love to be part of this. I don't get into the character until much later, and then I'll be newly enthused. Or I'll have buyer's remorse, which, thankfully, hasn't often happened.

With an animated film like this, how much do you get to interact with the other actors?
I haven't met any of the other actors who voiced characters for Monster in Paris. That is, actually, the norm for animated movies. I did get to record with Eugene Levy for Over the Hedge and with Marty Short for Frankenweenie, which was fortunate not just because it was a lot of fun but because we were playing married couples.
You've been doing voice-over stuff since the 1970s, and in the last decade you've had handful of acclaimed animated films: Monster in Paris, Frankenweenie, Chicken Little. Do you have a knack for picking winners, or is it just that great films have casting directors that love you?
Thank you! I've been very fortunate to work with many wonderful directors on fun projects. I've tried to choose wisely, but I've also been very lucky.

I fell in love with you in Beetlejuice. Do you still run into people who are fans of you from that film?
I love Beetlejuice too, thanks! And yes, to your question, they are usually big Tim Burton fans and I'm always happy to talk about Tim and about making that movie. It was such a fun shoot and I met my husband on the movie. He designed the sets.

Back with SCTV, which launched your career, you began as an understudy for Gilda Radner. I loved Gilda, and she clearly has so many fans still today. Who do you think is a modern female comedian or actress who matches Gilda's talent?
I met Gilda a couple of years before I understudied for her at the Second City Theater in Toronto. She and my brother, Marcus, dated. Our whole family got to hang out with lovely, funny Gilda. She was one of a kind, so strong and hilarious, yet delicate and vulnerable. It's such a different time — a better time — now for women in comedy. Melissa McCarthy is great. I love Amy Poehler and Tina Fey. Kristen Wiig has some wildly funny characters. I'm so happy to see all these smart, funny women creating their own work and inspiring other talented girls to go after their dreams.

Next up you're in the film A.C.O.D. with a ton of funny actors: Adam Scott, Amy Poehler, Jane Lynch.
Don't forget Richard Jenkins. We had an excellent script too. It was a thrill watching everyone work, and I hope at least a little of each of their talents rubbed off on me.