Laura Leighton: The Bitch Is Back
BY

Brandon Voss
September 08 2009 2:20 PM ET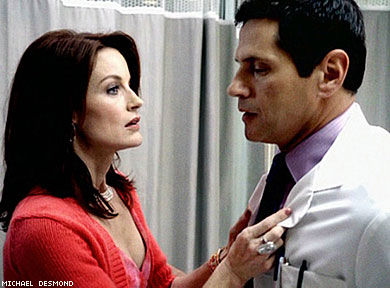 Josie Bissett's Jane, Thomas Calabro's 
Michael, and Daphne Zuniga's Jo are all scheduled to appear in the new 
series. Is there another original Melrose character you'd like to see
 brought back — if for no other reason but to find out what became of
 them?


It's been very nostalgic for all of us returning cast members,
 so we want all the old characters back — we're very biased. Thomas and 
I were talking the other day about the period of time when Sydney,
 Michael, and Peter, Jack Wagner's character, were all working in the 
doctor's office together when I was the receptionist. We were
 remembering how the three of us were always laughing and goofing around
when we shot those scenes, so we thought it would be fun to find out 
what Peter's doing and if Peter, Michael, and Sydney could mix it up 
again.


Should producers pay Heather Locklear whatever 
outrageous amount she's currently demanding to get her back on the show 
as Amanda Woodward?


[Laughs] You probably know more about all that than me. I'm always the last to hear. 


Your
 husband Doug Savant's character, Matt Fielding, technically died during the 
original series as well, but we never saw his corpse either. Although he 
currently stars on Desperate Housewives, would Doug do a Melrose cameo 
if Marc Cherry and ABC allowed it?


Doug's a great sport and always
 up for anything, but when I introduced Doug to our producers at our
 premiere party, they said, "Well, we don't think we can have more than 
one character return from the dead." Doug kind of went, "Oh, OK. So I
 guess I won't be coming back."
Why haven't you weaseled your way onto Desperate Housewives in the past five seasons?


Funnily
 enough, I've known Marc Cherry since I was about 18 years old. He was 
involved in a nonprofit song and dance company called the Young 
Americans that I was a part of, and he wrote an original musical that I
 was cast in. So when Doug went in to audition for the Desperate
 Housewives pilot, Marc stood up to introduce himself, held his hand 
out, and said, "Hi, Doug, I'm Marc Cherry. I wrote the first thing your
 wife ever did!" But Marc has joked about wanting to write a scene for
 Doug and Felicity [Huffman] to have dinner with another couple played
 by [Huffman's husband] Bill Macy and myself. That's Marc's fantasy, so
 we'll see if it actually comes true.


Before you dated Doug,
 you dated Melrose costar Grant Show. What's your advice for the new 
cast when it comes to dating other people in the series? 


Well, 
Doug and I didn't really begin dating until we were leaving the show,
 and we've been married going on 12 years now. Before that I had a 
relationship for three years with Grant, and relationships with 
somebody you work with don't normally last that long. It is dangerous 
and it can be really awkward when you're not together anymore and still
 have to work together, but I managed to have a potentially awkward 
situation work out pretty well. So I guess my advice would be to do
 what I say, not as I do [laughs].


Doug's portrayal of Matt, a 
gay social worker, gave a lot of positive mainstream exposure to 
gay people, but his love life was painfully neutered. I still 
remember the camera panning away from Matt as he was about to kiss someone in the 
courtyard. 


Yeah, it was ridiculous and annoying, and "neutered" is 
a great way to put it. I remember Doug being really frustrated by it
 and saying, "Why are we even doing this if we can't really tell this
 story?" But things have come a long way since then, and I know Doug
 feels quite proud that he was a part of that.


In the new series, Katie Cassidy plays bisexual publicist Ella and Victor Webster plays 
Ella's gay boss. Will there be more same-sex action this time around?


I 
think so. There's a lot more permission now to show different kinds of 
relationships, which is completely liberating for storytellers, for
 actors, and for all humans to finally be able to tell stories as they
really are.
I always thought Syd might flirt with bisexuality,
 but I lost all hope when she passed up a threesome with Traci Lords,
 who played her cult member roommate Rikki. I mean, who turns down Traci
 Lords?


[Laughs] Yeah, maybe that was just a little too frightening.
 She was chicken. But it would seem like a natural direction for Sydney 
to take. Maybe there's still time for another opportunity.