The Backstory on That White House Wedding Proposal
BY

Advocate.com Editors
June 25 2012 2:44 PM ET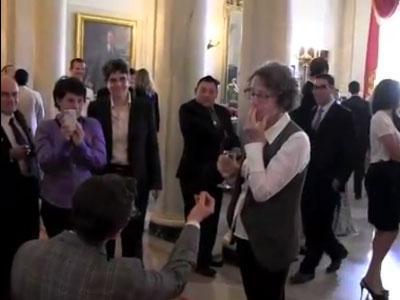 In his own words, Scout shares the story of his wedding proposal:
I was so nervous beforehand I actually missed my plane and almost didn't make it. No lie, I ran out of gas two miles from the airport. I missed my flight, then started begging to get on the next one, but the waiting list was too long, so I ran out of the airport to try against hope to make it to Boston for the very last flight that would arrive in time. I drove like a banshee up to Boston. I flung my car in the parking lot and just starting racing to the plane. Then it kept getting worse. I went to the wrong counter, I was in the wrong terminal, I forgot things in my pockets and need a security search. Then just when I thought I made it on, they announce I'd left my wallet back at security. I literally thought of leaving it but realized I wouldn't get in without an ID. Obviously I did make it, but by the time I was in the plane I'd sweated through my clothes I'd run so far. And I fly probably twice a month — clearly I was just a nervous wreck.
Liz should have known I was going to propose by what I was wearing. She'd helped me go suit shopping (not always easy for a trans guy). We'd found this amazing vintage store that carried Deadstock suits and re-tailored them to be sharp.

 I'd never been to the White House Pride reception before, so really didn't know what to expect. Mostly the beginning of the event is folk pressing toward where the president will come out, so you can't really mingle much. Then the president comes out and speaks. Surprisingly, it's hard to see him even though we were so close. Then they open up all the rooms and everyone exhales and has some fun.
Time was passing, and I still hadn't figured out what was best way to do the proposal. Maybe, I thought, it'd be better to just skip it? No, must be strong. So I started telling a few friends and they were gathering around the front hall area. We asked the Marine band to stop playing, but they informed us they needed clearance to change even a note of the program. My friends were starting to hang out, and I was worried if I told many more the gathering might clue her in, so I just handed the camera to Matty and went to get her. I pulled her over to the center of the main hall, asked a few folk to step aside and got down on my knee — and promptly forgot everything I had memorized.
What a mess I was. It didn't help that her first reaction was to back up from me. I scooted after her still on that knee and tried to remember my speech: 

Lisbeth Anne Margolies
, because the last three and a half years with you have been such an incredible journey.
 Because we both know we should get civil rights before marriage, even if the world doesn't agree. 
Because the thought of spending my life with you fills me with, I admit some trepidation, but mostly profound joy. 
Because no one tries harder.
 Because with you I know I will live my best life possible. 
Lisbeth Anne Margolies, will you marry me?


Of course in reality, nervous me mumbled out maybe half of that while she kept looking around like she wanted to melt into the woodwork. I'm thinking, Remember, you knew about this, right? Remember you were going to say yes. Say yes? Meanwhile she's looking so thunderstruck I was starting to wonder if she'd say no, egads. The seconds stretched on, I took out the ring and reached to her, 'Please?' The ring of people around us started with "Say yes!" Then she inched closer and took a little look at the ring, as if maybe if she found it good enough. Everyone laughed. Well apparently she did find it good enough, cause then her eyes lit up and she dropped down beside me with a big "Yes!"

Afterwards we went out with a bunch of our other trans friends from the event for a big dinner. I'd been looking for my buddy Kylar Broadus from Trans People of Color Coalition (the new national trans group) all night, hoping he'd be beside me as it happened. Turns out he and Cecilia Chung were a bit busy because they were pulled backstage for private chats with POTUS! OK, so we let him slide this one time and agreed we'd ask for all marriage presents to be gifts to TPOCC even if he did blow me off for the POTUS. 

When is the wedding? I think one step at a time. I'd better give Liz a chance to get used to being engaged first.
Writer BRETT EDWARD STOUT reported these stories.