If the Shoe Fits
BY

Diane Anderson-Minshall
July 09 2013 4:00 AM ET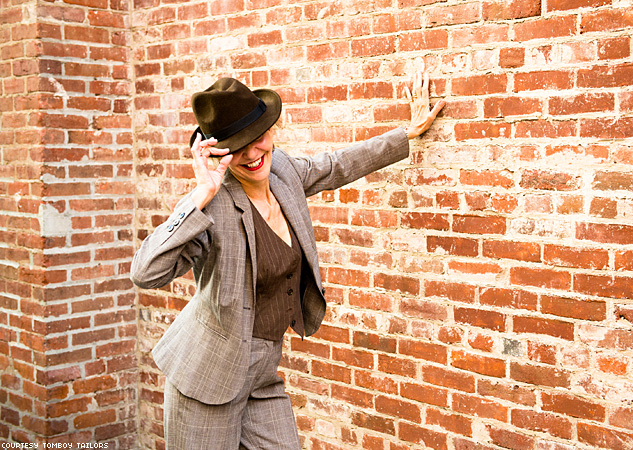 Going has a lot of fans. The Kickstarter campaign to launch Saint Harridan, which makes ready-to-wear suits and dress shirts for "masculine women of all sizes, shapes, identities" was the seventh-highest-funded fashion Kickstarter ever, raising $137,000 in 30 days.
Enthusiastic supporters pre-purchased 120 suits, 200 dress shirts, and almost 1,000 T-shirts. As soon as the Kickstarter went live, women from around the country began volunteering to model for Saint Harridan, many from areas where lesbians, especially butches, are few and far between. Going planned to bank on that fan excitement with pop-up tours in several key cities, using local women as models, taking orders from the road as Tomboy Tailors does.
The company has been in Going's mind for nearly a decade, beginning in 2004, when she says she and her wife were considering getting married in Massachusetts; she felt she had nothing appropriate to wear. "I thought about it again in 2008 when my state, California, briefly allowed same-sex marriages. That time, we did get married. We'd been together for 10 years. I had a custom suit made for our wedding and I loved how I felt in that suit."
She agrees with Anders that an interest in genderqueer fashion has always been there, but the ability for more women to wear it is the result of politics and shifting cultural mores more than any fashion trend.
"It's hard to think about wearing a suit when wearing it may get you fired or even killed," says Going. "I am grateful to the people who came before us who worked and sacrificed tremendously so that we can now concern ourselves with such things as ties and cufflinks."
Saint Harridan (the word harridan, means belligerent or bossy woman, a hag) is gaining a foothold in the market, even without enough product to go around. To the would-be models who've yet to try on their duds, Going wrote in a Kickstarter supporter letter: "Please let me gently remind you, you didn't order a new set of salad tongs from Amazon. You backed a startup. You pledged to the revolution! And on some bright morning, in the not-so-distant future, you will get up and put on a Saint Harridan suit. And you will rock it."