Give Homeless LGBT Youth a 'Shred of Hope'
BY

Advocate.com Editors
June 20 2013 6:00 AM ET
Trailblazing menswear label Nasty Pig might sound frivolous, but the clothing company is serious about helping homeless LGBT youth. Today, Nasty Pig launched Shred of Hope, an auction of one-of-a-kind "Shredder" T-shirts designed by celebrities, with 100% of the proceeds from the weeklong online auction going to New York City's Ali Forney Center for homeless and runaway LGBT youth. Custom shirts were designed by A-listers like Adam Lambert, Oscar-winning screenwriter Dustin Lance Black, actor Alan Cumming, Bravo TV host Andy Cohen, R.E.M. front man Michael Stipe, author and activist Dan Savage and husband Terry Miller, actor Ally Sheedy, her daughter Rebecca Lansbury, New York-based rapper Njena Redd Foxxx, author and activist Keith Boykin, and many more.
The shirts, which play on the retro-inspired theme of artistically torn but high-style frocks, will be available for auction online from today through June 27. Keep reading to find a sampling of the goods available for auction — and place your bid at ShredOfHope.com.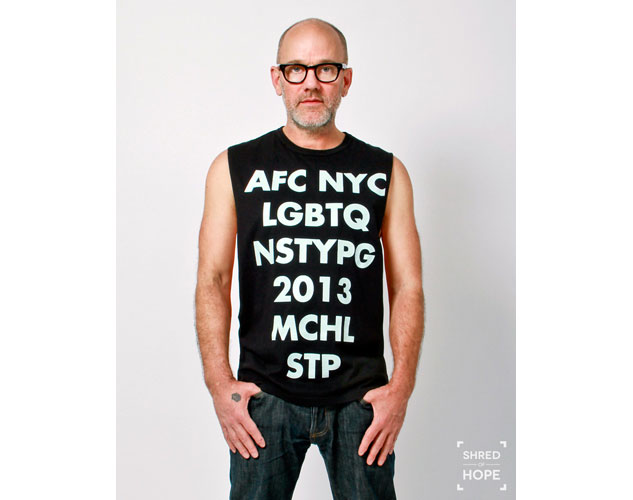 MICHAEL STIPE
"I participated in Shred of Hope because I had always wanted to work with the Ali Forney Center and Nasty Pig gave me the perfect opportunity to do so."

Michael Stipe is an artist, producer, and singer-songwriter. He fronted the band R.E.M. for 31 years, selling more than 100 million records and touring the world. As a film producer since 1987, he has made more than 25 feature films, including Spike Jonze's Being John Malkovich and Todd Haynes's Velvet Goldmine. In the past seven years, Stipe has focused on sculpture and cross-medium work, recently including bronze, plastic, cardboard, and digital imagery. His book Fear of the Empty will be released in spring 2014 by Rizzoli. He lives in New York City.