Give Homeless LGBT Youth a 'Shred of Hope'
BY

Advocate.com Editors
June 20 2013 6:00 AM ET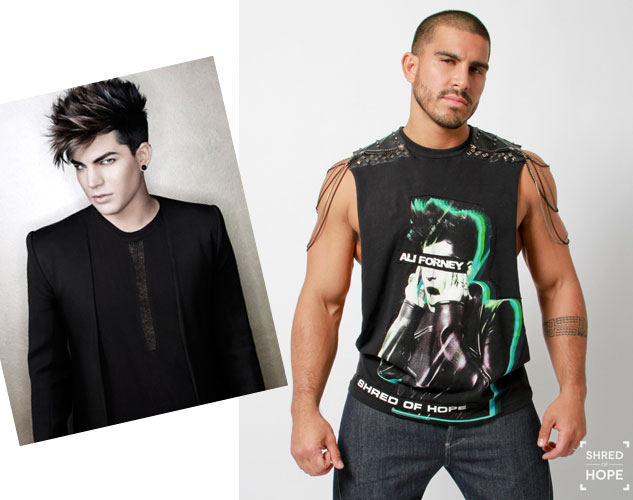 ADAM LAMBERT
Adam Lambert was already a seasoned theatrical performer before competing on American Idol, where his stunning performances are still widely regarded as some of the most riveting moments in Idol history.
When the show ended, he toured the U.S. with the other Top 10 finalists while working on For Your Entertainment, which debuted at number three on the Billboard Top 200 chart, and earned Lambert a Grammy Award nomination for best male pop vocal performance, in addition to scores of international awards and honors. He graced the covers of Rolling Stone, Details, Entertainment Weekly, The Advocate, and Out, appeared on every major late night and daytime talk show, and became the first openly gay mainstream pop artist to launch a career on a major record label in the United States.
Lambert channeled his newfound fame into raising awareness about issues close to his heart, advocating on behalf of LGBT causes the Trevor Project, Equality California, and GLAAD as well as for charity organizations MusiCares, charity water, and DonorsChoose.org.
Other achievements include becoming the first American Idol finalist to tour the world in support of a debut album in the year following their season — a thrilling spectacle documented on Lambert's 2011 DVD Glam Nation Live, which bowed at number one on SoundScan's Top Music Videos chart and became the best-selling debut of any release on the Music Videos chart last year. His most recent album, Trespassing, debuted at number one on the Billboard 200 album chart.
"I'm a firm believer that life doesn't just happen to you," Lambert says. "We are all on a journey that we have the ability to affect and change. Sometimes we have to trespass out of our comfort zone in order to evolve. Trespassing was written about the push and pull that we all go through on our quest for happiness, allowing the listener to find their own balance within my world."