Meet the 2013 Point Foundation Scholars
BY

Advocate.com Editors
June 19 2013 6:00 AM ET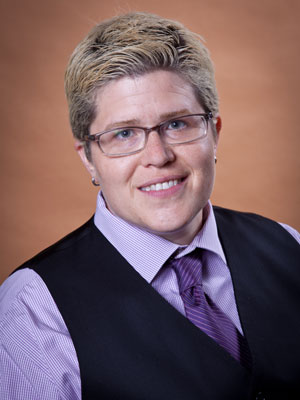 Kathryne M. "Katie" Young
Kathryne M. Young grew up in Tracy, Calif., a small town in the San Joaquin Valley. She went to Stanford University, where she graduated with honors in American studies before returning to Tracy High to found a College Coaching program, then moving to Oregon to pursue her MFA in creative writing.
At 27, Katie began to question her sexual orientation (she was married to a great guy at the time) and finally came out after a long personal struggle to come to grips with her identity. She now writes frequently about LGBT issues and butch identity, authored a 2011 law review article about sexual orientation and jury service, and has spoken in feminist studies at Stanford about female masculinity and butch identity. Katie's parents, who are politically very conservative, are tremendously supportive.
Katie holds a JD from Stanford Law School and is a Ph.D. candidate in Stanford's sociology department. She has worked summers at Stanford's Supreme Court Litigation Clinic, a county DA's office, and the Federal Defender's Office. Her dissertation is an in-depth ethnographic study of gender, identity, and legal consciousness in Hawaiian cockfighting.
Katie is committed to a professional life dedicated to furthering equality. She intends to become a law professor as well as to continue seriously pursuing her writing interests. Katie lives in California's coastal redwoods with her girlfriend. Their shared hobbies include hiking, reading, and propagating succulents.
What Katie hopes her scholarship will help her accomplish:
I hope to carry on the proud tradition of queer activism and continue our ever-changing fight for equality.
What Katie is most excited about in being named a 2013 Point Scholar:
This will enable me to finish my Ph.D. this year and —I very much hope — to become a law professor.
Katie's words of advice to LGBT youth struggling with familial rejection, educational difficulties, or other hardships:
First, people truly do change. It's hard to predict when and how, but that realization alone is cause for hope. Second, you'll be amazed how much small acts of visibility — just being out as you — can transform both yourself and the people around you for the better. Finally, I think it's increasingly important that we remember to embrace and encourage diversity within the gay community — for the childless by choice to fight for gay adoption rights, for nontrans butch women to fight for the rights of trans men, for young queers to fight for the rights of gay elders. We can't allow the gorgeous complexity and diversity of the queer community to let us become fragmented.