Shaping Sound, Changing the Face of Dance
BY

David Artavia
June 05 2013 5:00 AM ET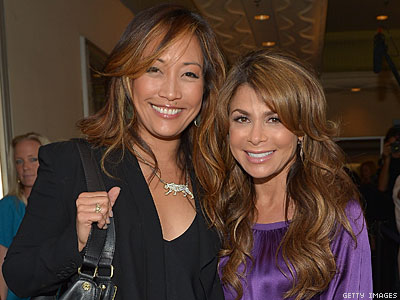 At left: Carrie Ann Inaba and Paula Abdul attend the launch of Shaping Sound Dance Company's first national tour.
"Dancing gets in your skin," says Abdul. "It's something that changes your life for the rest of your life. It gets into your heart and it doesn't leave you. It's such an outlet for happiness, for sadness, for everything. The bar will always be raising. This show is impeccable. It's impeccable dancing and impeccable dancers."
In the past decade, as reality dance shows have gained popularity, they've brought new legions of fans and have given the medium a new outlook. The people who were once obliged to stand behind the singers and told to "just dance" are now becoming celebrities themselves. Kids are throwing their football away to sign up for dance classes.
"When I was a kid, my mom signed me up for all the sports," Lazzarini says. "I really wanted to be in some sort of organized sport. I was not good in any of them. My mom took me past the dance room at the rec center, and I was like, I want to do that. It brought me around a community of people that were really accepting and allowed me to be myself."
On a related note, Robinson speaks of overcoming stigma as a straight male dancer. "I think a lot of straight guys had been worried about being stereotyped as gay," he says. "And that's why a lot of them don't continue to dance later in life and end up going to sports and other things."
Choreographer Adam Shankman, producer of the Step Up movies, agrees. "The number of straight guys who are dancing in those Step Up movies far outpace the ones who are gay, [so] I think it has shifted to a certain extent — certainly in the hip-hop community," Shankman says. "To my knowledge, there hasn't been a famous dancer since the 1950s, certainly other than Baryshnikov and the like, but they were multi-threats. Now they can actually be dancers, and they have names, and choreographers also have names. I just never thought I'd see it in my lifetime."
It's no secret that gay people have always been welcomed in the arts. And in the past few years, shows such as Glee, Smash, So You Think You Can Dance, Modern Family, and the recently canceled The New Normal have introduced mainstream America to gay people to an extent that seemed unimaginable 30 years ago.
According to GLAAD's most recent report analyzing LGBT visibility on television, there are 31 LGBT scripted characters represented on the five broadcast networks — an increase from the previous season. In addition, there are 19 recurring characters on prime-time broadcast scripted series, and 26 additional recurring characters on cable. Out celebrities like Neil Patrick Harris, Bass, Wall, and Lazzarini are pushing that visibility forward even further.
"Modern Family is amazing, and I think it's doing wonders to change a lot people's opinions," says Bass. "Especially in middle America." Bass came out publicly in 2006 with much support from his fans following his record-breaking career with the boy band 'NSync. "The more that people get to know those types of characters, the better it's going to get. Once they get to know a gay person, it's like, Oh. This is what's it's all about? I think it's so important to be very visible as a gay celebrity. I'm always for the privacy of celebrities, but right now in this time and age, I think it's very important to have people like Neil Patrick Harris and everyone else to really show who they are, because as a kid I didn't have anyone to look up to."