The Films of NewFest 2013
BY

Jase Peeples
September 04 2013 4:00 AM ET
The Rugby Player
Wednesday, September 11, 5 p.m.
Venue: Walter Reade Theater
On this 12th anniversary of 9/11, the fest presents Scott Gracheff's documentary, which pays tribute to one of the gay heroes of that day: Mark Bingham. The Rugby Player is an uplifting and stereotype-shattering documentary that tells the story of a mother, a son, and what it takes to be a hero. The film explores the lives of Mark Bingham, one of the passengers on United Flight 93 on 9/11, and his mother, Alice Hoagland, a former United Airlines flight attendant. The Rugby Player is a touching, funny and stirring portrait of how a son's heroism can inspire a nation and how a mother's love can turn unfathomable loss into unshakable resolve. Utilizing footage shot by Bingham himself, this timely film provides keen insights for the national debates on LGBT rights, marriage equality, and gay athletes in sports.
Test
Wednesday, September 11, 7:15 p.m.
Venue: Walter Reade Theater
This sexy, funny, poignant new film from Chris Mason Johnson (The New Twenty) won two Outfest Los Angeles Grand Jury Prizes for its portrayal of Frankie (Scott Marlowe), a sexy young dancer in 1985 San Francisco, enjoying big-city life and the erotic freedom that comes with it. But when he's not onstage performing (in a series of stunning dance sequences) or bringing new friends up to his apartment, Frankie debates whether or not he should take the brand-new HIV test. Mixing unforgettable characters, sharp writing, and dazzling choreography, this exuberant period piece calls to mind Parting Glances and other classics of urban queer cinema.
Tickets are $30 and include admission to the Closing Night party.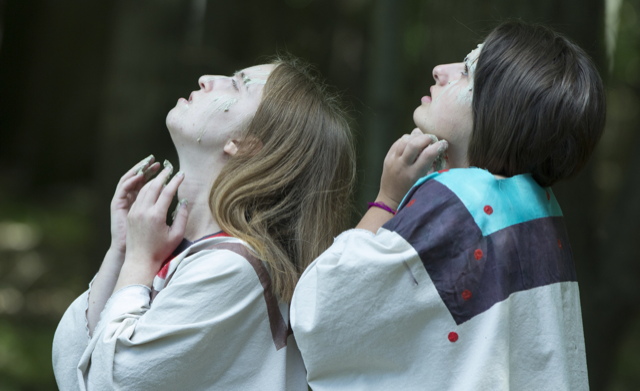 NewFest: Experimental Showcase
Wednesday, September 11, 10 a.m.
Venue: Walter Reade Theater
Looking back as moving forward, this selection of recent works and telling discoveries assembles a queer menagerie of experimentalists and pop icons, like Pet Shop Boys, Lil' Kim, and Kristen ("call me KStew") Stewart. From flickering Super 8 and scratched 16mm to grainy VHS, HD video, and plasma monitors, the cutting edge never felt so queerly expanded.
Hard
Vanessa Roveto | USA | 2013 | 6 minutes
A hilariously deadpan monologue about a chance lesbian encounter with Kristen Stewart backstage at a Ph.D. conference on the subject of the Literature of Transgression in 17th-Century Nunneries.
Tableau
Nao Bustamante | USA | 2013 | 18 minutes
In her hilarious new fiction short, Nao Bustamante captures another experimental filmmaker, JT (played by noted queer filmmaker Joshua Thorson), as he struggles with his apocalyptic film and the pesky interruptions by one tween next-door neighbor.
Basket
Josef Kraska | USA | 2013 | 5 minutes
Answering a call to arms and stripping out of various stereotypic garbs that signal "blackness" throughout the decades, Narcissister performs a socio-cultural strip-tease that must be seen to be believed.
Invisible
Brian Bress | USA | 2012 | 6 minutes
In this debut video for the Pet Shop Boys' recent album, Elysium, Los Angeles-based artist Brian Bress infuses an elegiac song with the colorful pop characters and digital abstractions that have characterized his fine art career.
Out of the Strong Come Forth a Sweetness Weakness
Jonesy | USA | 2013 | 12 minutes
Set to the live recording of a sound performance by the collective Unthem commissioned by Outfest Platinum, Out of the Strong ... incorporates collage animation elements and live video in a cut-and-paste style that recalls the zine aesthetics of Jonesy's prior involvement with the Queercore movement (Fagbash).
Shaping Up
William E. Jones | USA | 2013 | 2 minutes
Shaping Up loops 30 seconds of found Super 8 footage of a man flexing his biceps and walking a lawn mower in constant repetition.
The Assumption
Navid Sinaki | USA | 2011 | 6 minutes
In this meditative short, filmmaker Navid Sinaki illustrates a man's final conversation with Death with the gorgeous obsolescence of VHS imagery.
Passions of St. Aqueduct
Tony Stinkmetal | USA | 1990 | 2 minutes
A lyrical Super 8 portrait shot on the piers of New York City and featuring a pre-Johnsons Antony Hegarty, who was then a member of the Blacklips Performance Cult.
Shelly Winters
Luther Price | USA | 2010 | 10 minutes
Luther Price strips educational celluloid to its most primal resources in this intense rumination on domestic violence in the Boston region, where the filmmaker is from.