Seat Filler: The Advocate's Guide to the 2011-12 Broadway Season
BY

Brandon Voss
May 09 2012 9:37 AM ET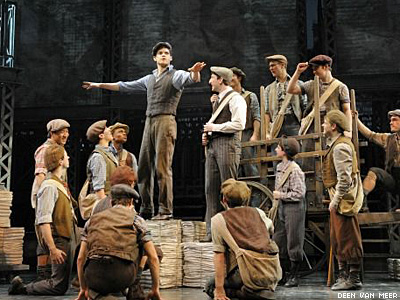 Newsies
The actual teens of the 1899 New York City newsboy strike probably weren't such toned hoofers — spot the So You Think You Can Dance alums! — but it's one more reason to adore this high-energy Disney musical based on the 1992 flop about paper-pushers taking on publishing bigwigs. Alan Menken's tunes and Harvey Fierstein's book are tops, but the real headline-maker here is Bonnie & Clyde's Jeremy Jordan as dreamer Jack Kelly.
Nederlander Theatre, open ended.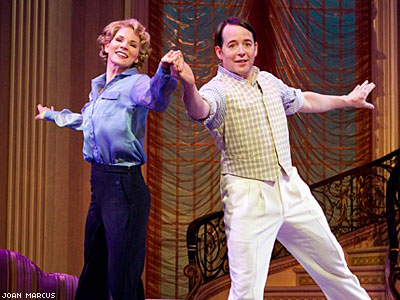 Nice Work If You Can Get It
Matthew Broderick jazzes up his milquetoasty Producers shtick with some hard-earned effervescence as a wealthy bon vivant who falls for Kelli O'Hara's butch bootlegger in this 1920s-set screwball romantic comedy. Kathleen Marshall's splashy choreography complements a sparkling score culled from the Gershwin canon, but it's the surprisingly fresh, waggish book by out Memphis librettist Joe DiPietro that really works like a charm.
Imperial Theatre, open-ended.
On a Clear Day You Can See Forever
With a new libretto by out playwright Peter Parnell, gay director Michael Mayer neatly reincarnates Lerner and Lane's 1965 musical with an updated love triangle in psychedelic 1974: Dr. Bruckner (Harry Connick Jr.) hypnotizes a gay florist (David Turner) and falls for his female past life (Jessie Mueller), a '40s jazz singer. The enticing gay twist — Connick ostensibly kisses Turner — and stirring vocals make up for the sluggish scenes.
St. James Theatre, closed January 29.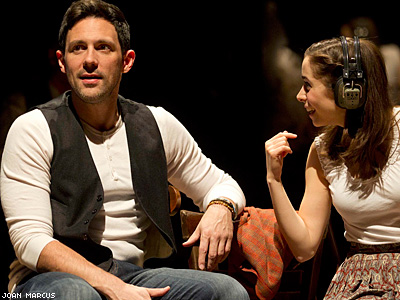 Once

Glen Hansard and Markéta Irglová's soulful soundtrack shines anew in this intimate and inspiring musical based on the 2007 indie film. Steve Kazee and Christin Milioti are sublimely heartbreaking as a Dublin busker and a Czech immigrant who bond chastely while recording a demo with a motley crew that includes Andy Taylor as a folksy gay loan officer. Rest assured you'll hear Oscar-winning ballad "Falling Slowly" — twice.
Bernard B. Jacobs Theatre, open-ended.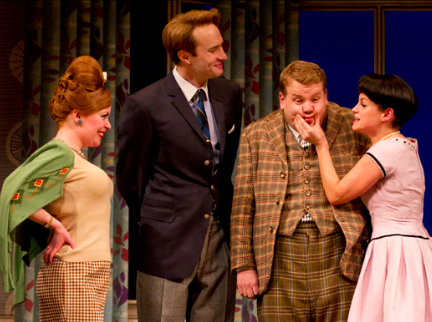 One Man, Two Guvnors
In the National Theatre of Great Britain's uproarious farce, which is based on Goldoni's 1746 commedia dell'arte Servant of Two Masters, a convoluted plot — a young woman disguises herself as her dead twin brother, for starters — provides a good excuse for History Boys alum James Corden, the love child of Jack Black and Ricky Gervais, to mug and improvise brilliantly as a hungry dolt juggling the demands of two criminal bosses.
Music Box Theatre, open-ended.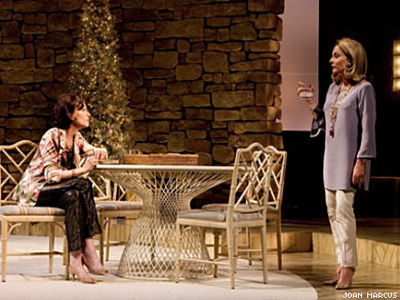 Other Desert Cities

Lincoln Center Theater's slick, sophisticated dramedy by gay Brothers & Sisters creator Jon Robin Baitz stars Rachel Griffiths as a novelist whose new memoir details a dark family secret. Out über-director Joe Mantello overcomes familial tropes like political dissonance with a peerless ensemble led by Stockard Channing as the chilly matriarch and AIDS activist Judith Light as her quick-witted alcoholic sister with a lesbian past.
Booth Theatre, through June 17.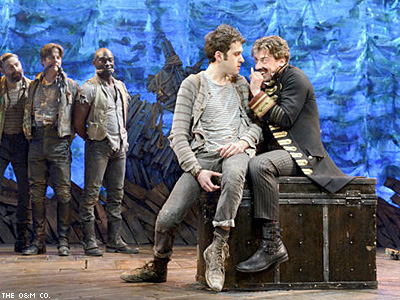 Peter and the Starcatcher
Based on a 2004 novel and starring out charmer Adam Chanler-Berat, this anachronistic Peter Pan origin story is magically imaginative — think Wicked meets Bloody Bloody Andrew Jackson on a boat — but it's also exhaustingly frantic, twee, and full of groaners. Temperamentals star Arnie Burton dons drag as governess to Wendy's mom, but Smash's uproariously fey Christian Borle steals the show as a pirate who becomes Captain Hook.
Brooks Atkinson Theatre, open-ended.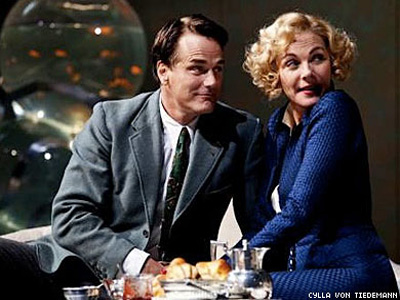 Private Lives
Sex and the City's luminous Kim Cattrall and handsome Canadian actor Paul Gross spar as tempestuous divorcées Amanda and Elyot in Richard Eyre's elegantly slapsticky, emotionally shallow, and surprisingly sleepy revival of Noël Coward's 1930 comedy about the destructive nature of passion. The strained farce isn't helped by the missed opportunity of a dismal art deco scenic design — save for a cool three-tiered aquarium.
Music Box Theatre, closed December 31.