Involuntary Exile: What Binational Couples Still Face
BY

Sunnivie Brydum
December 20 2012 6:00 AM ET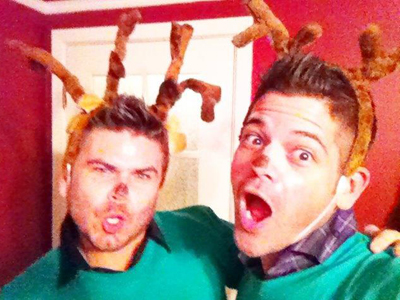 Smalley might be among the next wave of Americans to abandon their homeland in the name of love. Smalley says he is absolutely considering moving to Australia to be with Gray if American courts and the Obama administration don't act on repealing DOMA within the next six months. If Smalley were to emigrate to Australia, Gray says he would easily be able to sponsor his partner for work, residency, and citizenship.
"Mark could actually move here pretty quickly, and we would need to prove that we've been together for a period of two years or longer," explains Gray. "He can potentially come over here and start working tomorrow and get a temporary visa ... that will actually allow him to work. So the process is much quicker and in our favor within a timeline."
While the couple openly wishes for immigration practices as inclusive as Australia's, they recognize that the United States is making progress.
In 2011 the Obama administration announced it would no longer defend DOMA in court, citing the president's belief that the law is unconstitutional. And on October 5, the Obama administration issued a directive that ordered prosecutorial discretion in deportation proceedings involving committed same-sex binational couples, while the government figures out what to do about DOMA and the binational couples it forces apart.
But because Gray wasn't allowed to enter the country October 12, he wasn't technically deported, so the prosecutorial discretion doesn't apply in his case.
Smalley and Gray have gone to great lengths to stay within the law of the land, navigating 90-day visas that allow the couple to be together for three months before Gray is forced to return to Australia. It's an expensive, time-consuming, and frustrating process, they say.
Gray first arrived in the United States on a work visa in 2003. But when the economy crashed, Gray was among the workers let go from his longtime employer, Herbalife, in 2011. After unsuccessfully looking for a job for a year, Gray grudgingly returned to his native country, without Smalley at his side.
"I could have just stayed there and be illegal, but that's not what we've done," says Gray. "We've tried to stay within the law, every week. So when marriage is allowed and all these other roadblocks we've had in front of us are overturned, then we can get married happily and not have to worry about other steps."
Gray and Smalley are encouraged by President Obama's reelection, an optimism that advanced when the Supreme Court announced in December that it will hear two cases relating to same-sex marriage. One is a challenge to California's Proposition 8, which revoked the freedom to marry by popular vote. The other is a challenge to DOMA, turning on the case of Edith Windsor, an 83-year-old lesbian widow who was forced to pay $360,000 in estate taxes because the federal government did not recognize her marriage to her late spouse, Thea Spyer.
Smalley said he and Gray are "hesitantly optimistic" and looking forward to the Supreme Court's ruling, expected in June.
"We will be counting down the days until then, and hope and pray that they will be on the right side of history," says Smalley. "The world is looking to the United States to take the lead on equality. I hope we do not disappoint."