If the Shoe Fits
BY

Diane Anderson-Minshall
July 09 2013 4:00 AM ET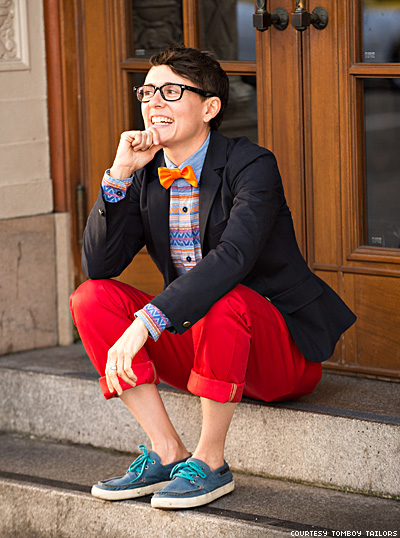 And bursting on the scene earlier this year was 6-foot-2 former Olympic swimmer-turned-model Casey Legler, the first woman to be signed to Ford Models's men's division. Five months afterward, Legler appeared in the May 2013 issue of Vogue in an article about the fashion industry's new "gender-flipping" trends, telling the magazine, "I happen to be a woman — sheer luck of the biological roulette — who has the great privilege to engage the ways in which gender signifiers can be liberated."
While the mainstream is dipping its tasseled loafers in the androgyny pool, lesbians are leading the way behind the scenes. Project Runway finalist Alicia Hardesty is working on her own tomboy fashion line, and Portlanders Julia Parsley and Emma McIlroy have seen success with Wildfang, their online boutique of curated tomboy clothing (which is aided by a star-studded lesbian fashion video that features The L Word's Katherine Moennig, Gossip drummer Hannah Blilie, and Olympian Megan Rapinoe).
But Tomboy Tailors may be the buzziest of these projects — the country's first self-described genderqueer menswear shop opened this spring at the upscale Crocker Galleria in San Francisco's Financial District.
"Women have been wearing men's suits for well over 100 years, if not much longer," says Zel Anders, the 48-year-old founder of Tomboy Tailors. "But with changing attitudes about gay marriage, legal changes about gay marriage, and corporate changes in providing more employee benefits for same-sex couples and transgender individuals, it just seems to have gotten a lot easier to wear what you want — at least in places like San Francisco. My hero, attorney Tanya Neiman, wore her trademark double-breasted suits, bow ties, and wing tips for many years in San Francisco and walked with such elegance and ease. I wanted to have that ease about me and to make it easier for other women to wear the clothes they want to wear."
Anders had been planning Tomboy's launch since 2010, and met with vendors for more than a year before opening the store's doors. She says the store exceeded financial projections in the first month it was open, and she had to hire three new employees in her very first week in business.