The A-List Interview: Elizabeth Banks
BY

Brandon Voss
July 11 2013 4:00 AM ET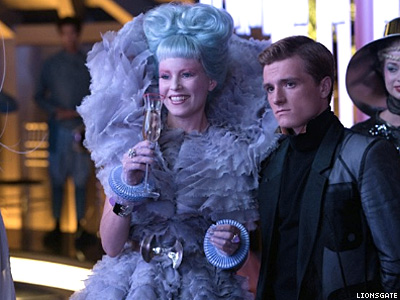 Banks with Josh Hutcherson in The Hunger Games: Catching Fire
You produced Pitch Perfect, which was loosely based on a book by gay writer Mickey Rapkin. Along with gay director Jason Moore, you really seemed to nurture the story's queer sensibility. Did you have the gay audience in mind while filming?
Oh, absolutely. We knew that young girls and gay men were our target audience. But, again, it's the same sensibility that I share with my gay friends and the gay audience. We were making Pitch Perfect to make ourselves laugh; we figured that if we thought it was funny, the girls and gays would think it's funny.
The movie featured a lesbian character, Cynthia-Rose, played by Ester Dean. Do you foresee more gay characters in the sequel?
Hmm. What can I say about the sequel? Well, there's a huge outpouring of support for Beca and Chloe — Anna Kendrick's and Brittany Snow's characters — to get together, but I can tell you right now that they will not be lesbians in the sequel.
Have you ever played a lesbian?
I don't think I have — although Effie Trinket in The Hunger Games might be gay. My vision of the Capitol is pansexual like ancient Rome, where everybody's doing everybody.
Any chance she's a drag queen?
I've actually thought about that. I think Suzanne Collins created the character to be nurturing and mothering in her own way, so she's probably a woman. But I definitely saw a lot of drag Effies last Halloween in West Hollywood!
Are Effie's wigs and outfits in Catching Fire even more outrageous than in the first film?
They really are. We relied a lot on Sarah Burton for Alexander McQueen for the costuming, so there's some amazing, handmade, one-of-a-kind couture. I feel so honored to have worn these pieces of art.
Effie's serving Nicki Minaj meets Frenchy from Grease in Catching Fire promo photos.
There's some of that, true, but she changes quite a bit and has a more varied palette this time around. You haven't seen her more fabulous stuff yet.
What advice would you give a guy who wanted to dress up as Elizabeth Banks for Halloween?
Just look really tired and maybe stick a baby on your hip. That should do it. I'm an exhausted mom with two very young children, so I'm not very fabulous right now. But Halloween is one of my favorite holidays; I'm a pagan at heart.
If you were to play a lesbian, which actress would you want cast as your love interest?
Angelina Jolie is always super-hot and Christina Hendricks is pretty ridiculous, but I think I would have a lot of fun with Emma Stone.
You shared memorable same-sex kisses with Marisa Ryan in Wet Hot American Summer and with Alicia Witt in the web series Wainy Days. Did you see those characters as bisexual?
With Marisa in Wet Hot American Summer, that kiss wasn't scripted. It was the second-to-last day of filming, and the director, my good friend David Wain, came up to us and said, "Let's do one for the crew." So that kiss was really just a fun and ridiculous gift for all the dudes on the crew. In Wainy Days, which is also from David Wain, my character made out with everybody, so she was probably bisexual.
Did you find kissing a woman onscreen any different from kissing a guy?
It's a little softer. It is nice not to have to worry about razor burn.
Were those your first girl kisses?
No, they were not. [Laughs] I've definitely made out with a few girls in my time.