The Other Baja: La Paz
BY

Matthew Breen
November 01 2013 4:20 PM ET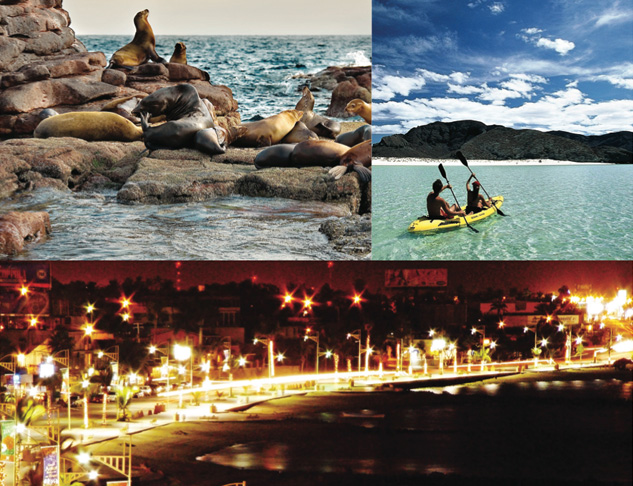 Getting Away From it All: (clockwise from top left) Sea lions lounge in the sun; kayakers near the protected Isla Espiritu Santo; the miles-long Malécon boardwalk at night
The La Paz town center is a short 20-minute drive from the airport. The city has been described by the New York Times and Money magazine as one of the best places in the world to retire, something that's unlikely to be said of its more famous, rowdier neighbor, Cabo San Lucas, a heavily trafficked tourist destination about a two hour's drive south. La Paz, by contrast, is smaller, offers up fewer mega-hotel resorts (the first American chain, Hyatt Place, just announced it would open), and fewer spring breakers. The city rests in a bay on the Sea of Cortez and feels more pristine and, to many visitors, more "Mexican."

The town's hub is the three-mile-long boardwalk called the Malecón, a gathering place for locals of all ages, particularly on the weekends. From bars and cafés that face the Malecón you can watch families strolling, friends gathering, and couples on first dates, or take in concerts and festivals. It's also the nightlife hub, and taxis are plentiful to take visitors home after a night of cervezas. La Paz is relaxed and gay-friendly, and there are some gay bars and an annual gay and lesbian parade with glittering floats; I'd just missed the drag event "Miss Orgullo Day" in late June.

The Baja peninsula is one of the longest and most isolated in the world, and the Free and Sovereign State of Baja California Sur (its official name) is the second smallest of Mexico's 31 states by population. But that's only if you're counting humans.

The low population density means that on the miles of beach within a 10 to 45 minute drive, and it's entirely likely that not another soul will be seen all day. But the real thrill is what's found under the water's surface. After a short boat trip from La Paz, I was surrounded by sea lions, manta rays, dolphins, turtles, and gray whales.

Isla Espiritu Santo ("Holy Spirit Island") is an 11-mile-long uninhabited island with a UNESCO-protected ecosystem. In its dozens of bays, herons, lizards, ground squirrels, and blue-footed boobies — some species found nowhere else in the world — regard their human visitors with benign disinterest. Our experienced Fun Baja guide gave me tips on snorkeling with the sea lions: The giant bulls bark their warnings from the rocks near their lounging harems, then they dive into the water and dart back and forth just below the water's surface near the island, marking a this-side-sea-lions-only line. Cross the line, and face a 400-pound charging bull at torpedo speeds. Younger pups are playful — they can cross the line that I couldn't — and may nip harmlessly at your flippers or hand if you let them.

"La Paz" means peace, and it's true to its name. But foregoing Sammy Hagar's Cabo Wabo doesn't mean you have to give up a good time. Especially if you end the day with a little Gusano Rojo mezcal — the one with the red worm.