Leaders of Change
BY

Advocate.com Editors
August 13 2013 5:00 AM ET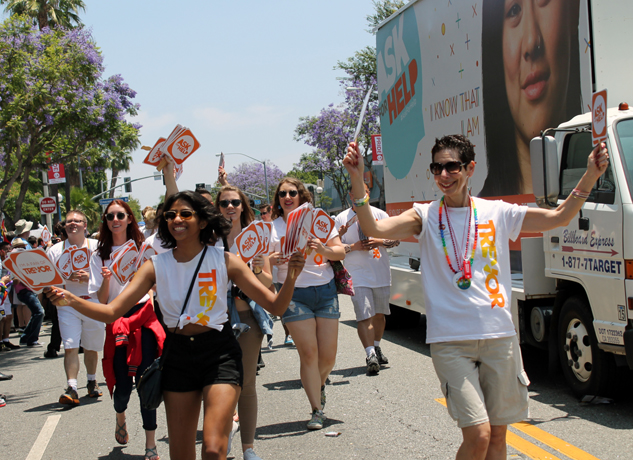 Abbe Land
Executive Director and CEO, The Trevor Project
Since 1998, The Trevor Project has been a trailblazer in suicide prevention, providing such vital services as the Trevor Lifeline (1-866-488-7386), a toll-free number that provides troubled LGBT youth with 24/7 access to trained counselors. The organization's current president and CEO is a trailblazer herself: Abbe Land, the longtime mayor of West Hollywood. Since assuming her role at Trevor in 2012, Land has been instrumental in expanding the organization's message and reach. Under her leadership, the nonprofit organization expanded operations of the country's first instant messaging crisis service for LGBT youth, TrevorChat, to seven days. Moreover, the Trevor Lifeguard Workshops, which provide age-appropriate curriculum on topics such as sexual orientation and suicide prevention, was recently recognized in the SPRC/AFSP Best Practices Registry. Every year, more than 100,000 young people reach out to and benefit from these services.
For Land, one of the most emotionally resonant experiences comes from reading and responding to the many letters written by LGBT youth who feel ostracized, different, and isolated in their pain. The program, titled Ask Trevor, allows young people to ask questions that are related to family, coming out, gender identity, crushes, and the general confusion and loneliness that comes from feeling different from others."People feel it's just them, and nobody's going to love them because of who they are," Land says. "And that's so untrue. And being able to answer and tell them that there are others, and that they're perfect just the way they are, is what the mission of Trevor is all about."
"It's the reason that I want to keep doing this work," Land adds, "because no one should feel that they are all alone." According to Land, one of the most impactful ways the average person can help further the mission of The Trevor Project is to talk about the reality of suicide with friends, loved ones, classmates, and peers. Normalizing these often-taboo conversations, Land believes, will make it easier for at-risk youth to ask for help.
In addition to these conversations, supporters of Trevor's cause can also contribute financially at www.trevorproject.org or apply online to become a volunteer counselor, which requires a training program. One can also join their local Trevor Ambassadors, volunteer groups located in many major U.S. cities that contribute to fund-raising and education programs.