Where Should You Take Your BF or GF on Vacation?
BY

Jason Couvillion
March 21 2013 3:00 AM ET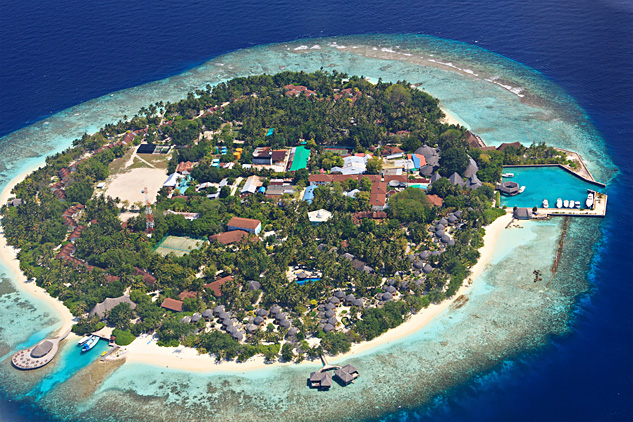 I've always been interested in the Maldives but is flying half way around the world just to sit on the beach worth it? Is there a place there that is truly unique? And what is the least painful way to get there?
Get on the plane! Your own private island resort, overwater bungalows, spa treatments while watching the fish below, walking on a secluded sand bar surrounded by nothing but clear blue water, how could it not be worth it? Yes it will take you a day of travel to get there, but once you're sitting on the deck of your own private villa watching the sunset you'll forget your travel time. This group of one thousand islands in the middle of the Indian Ocean is truly unique, and it is disappearing as the ocean levels rise, so get there while it is still above water!
Fly through Dubai to Male, the capital and only international airport in The Maldives, or the other way around through Singapore. From major cities in the U.S. like Los Angeles and New York, you can make it there in just two flights. Long flights, but it will be worth it.
The whole country is truly unique, but for an over-the-top experience, stay at the Como Resort, Cocoa Island (http://www.comohotels.com/cocoaisland/cocoa-island-como-maldives). Each suite is over the water and built to look like a traditional Dohni, a traditional Maldivian Fishing boat. The resort occupies a small powder white sand island all to itself and is surrounded by a reef and long sloping sand bars. With only 33 villas, you will be sure to have a spot on the beach all to yourself to just relax, or enjoy the amazing Shambala spa (http://www.comoshambhala.com/). Even the arrival is unique, on a sea plane operated by Maldivian Air Taxi or by speedboat transfer from Male International Airport.
For another unique experience in the Maldives, check-in to the Rangali Island Resort (http://conradhotels3.hilton.com/en/hotels/maldives/conrad-maldives-rangali-island-MLEHICI/index.html) and check out their underwater restaurant. Yes, the dining room of the Ithaa Restaurant (http://conradhotels3.hilton.com/en/hotels/maldives/conrad-maldives-rangali-island-MLEHICI/amenities/restaurants_ithaa_undersea_restaurant.html) is in a glass room under the sea. You can really see what you're eating. The resort also boasts over water bungalows and a world class spa.
So grab some sleeping pills and get on the flight, you'll be in paradise in just over a day's travel.
JASON COUVILLION is a partner at ALT, Alternative Luxury travel, a travel agency based in Los Angeles that caters to the needs of the LGBT traveler.