Inventing the California Boy
BY

Christopher Harrity
June 29 2013 4:00 AM ET
Harry Bush and the Male Pinup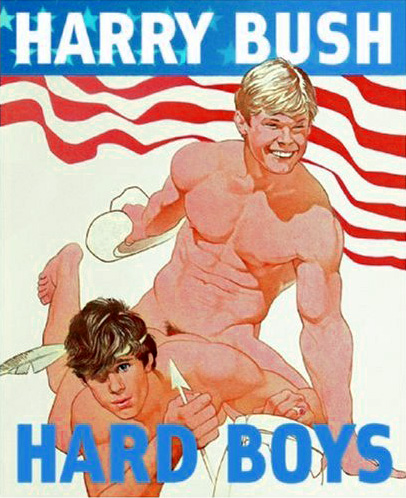 Harry Bush's drawings for magazines such as Physique Pictorial, Mr. Sun, Touch, Drummer, and Stroke combined masterful technique, exceptionally well-endowed subjects, and a wicked sense of humor that made his work extremely popular. Despite long periods of self-imposed retirement and a fear of being outed that led him to destroy much of his own work, the reclusive artist's drawings were as recognized and recognizable as those of Tom of Finland throughout the 1960s and 1970s.

Harry specialized in a certain type of pug-nosed young muscle boy. Bush's boys have a seeming lack of awareness of their own attractiveness — or that their clothing is disintegrating off of their bodies. They stick out a thumb and cock a hip as they hitchhike up the Pacific Coast Highway with surfboards under their arms. Playful, flirty, and full of dry wit, these guys always have tan lines and outrageous proportions. Bush was influenced by J.C. Leyendecker and the straight pinup artist Alberto Vargas.

Life imitates art, and Harry's young men became physical role models for many. Harry told tales of porn stars in the '80s beseeching him with sexual favors for a portrait. He told us that he always refused.

See the best collection of Harry's work in Harry Bush Hard Boys.
See a selection of Harry's drawings on the following pages >>>