LGBT Highlights From Comic-Con International 2013
BY

Jacob Anderson-Minshall
August 15 2013 2:59 PM ET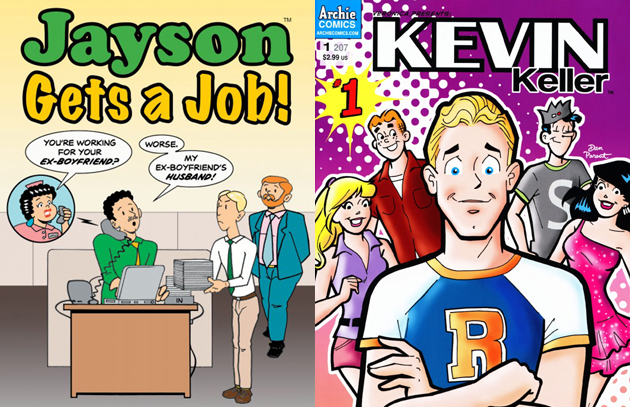 Kevin Keller and Jayson Crossover?
Kevin Keller (by writer-artist Dan Parent, who's had a 26-year career with Archie Comics) is the first gay character in the Archie universe. During the Kevin Keller panel, which included Jeff Krell (author-artist of Jayson, the long-running gay comic strip about Jayson Callowhill, a skinny farm boy who moves to Philadelphia searching for a job and a man), an audience member asked if Kevin and Jayson would ever meet.
The Advocate then asked Krell about the potential of any crossover.
"Although the question was directed to me," Krell says, "Archie president Mike Pellerito jumped right in to say he would consider it!"
But Krell has reservations about such a collaboration. He says he "countered with some other ideas for crossovers that would make sense for Archie that I would be happy to write. I mentioned that Glenn Scarpelli, who made appearances in Archie comics in the 80s — he was artist Henry Scarpelli's nephew and a costar on One Day at a Time — recently came out, so it would be cool if he paid a return visit and met Kevin."
"Then," Krell continues, "I described the crossover I really want to write: Kevin Keller Meets Sabrina — in which Kevin encourages Sabrina to come out as a witch and leave the stress of the closet behind her."
It's not that Krell dislikes the idea of a Jayson-meets-Kevin storyline. "I think it would be fun to write," Krell admits. "Jayson's cynicism versus Riverdale's idealism — which [would] win out? … Jayson's a cynical optimist, so as much as he really would like to live in Riverdale, he recognizes that the real world is far more disappointing than that."
Jayson has often been called "the gay Archie," a comparison that Krell says is "apt in that both are told in a teen humor style, and the naîveté of Riverdale's residents parallels Jayson's naiveté as a young man who flees Farmville for Philadelphia but has no preparation for gay culture or big-city life."
Mirroring Jayson's realism, Krell doesn't even allow himself to really consider a Kevin-Jayson crossover, arguing, "Imagine some kid reading the story and saying, 'Mommy, Jayson's funny. Will you buy me a Jayson book?' And she does and it's not age-appropriate. And then Archie suffers the consequences. That's why it's never going to happen."