28 Sexy (Movie) Men in Uniform
BY

Diane Anderson-Minshall
March 07 2013 8:00 AM ET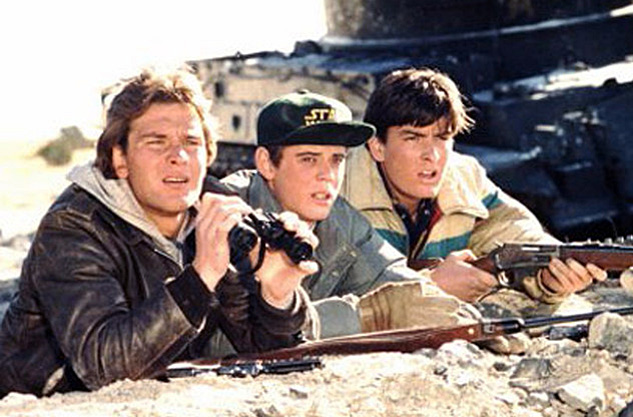 Patrick Swayze, C. Thomas Howell, and Charlie Sheen in Red Dawn (1984)
OK, this one is a bit of a stretch (like the plot) because only the bad guys wear uniforms. But nearly every single person in the original Red Dawn had a sort of post-apocolyptic meets rural Colorado hotness going on about them, especially Patrick Swazye, Charlie Sheen, and Jennifer Grey. Oh, and everyone carries a gun. Everyone. Paging Dr. Freud.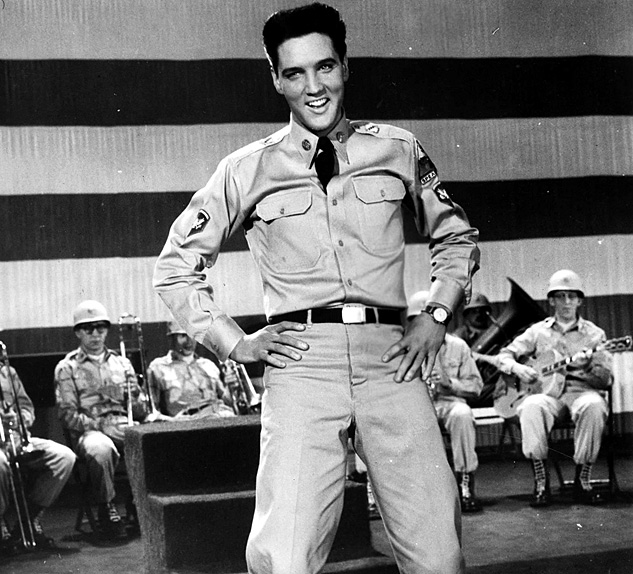 Elvis Presley in G.I. Blues (1960)
Playing Tulsa McLean, a singing, dancing Army specialist who dreams of opening a nightclub, G.I. Blues offered Elvis Presley a chance to show off many of his assets (not just his voice).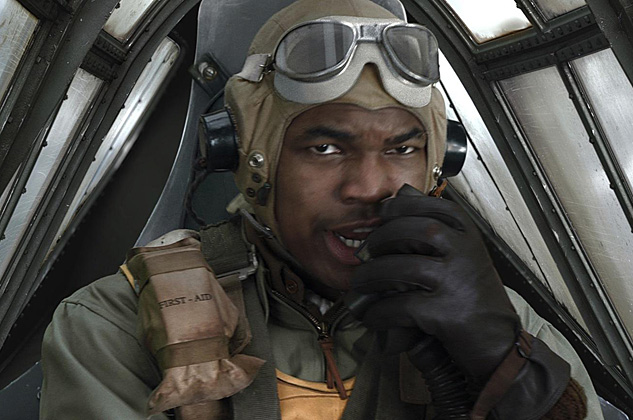 Ne-Yo in Red Tails (2012)
He's not first billed, or even third billed, but Ne-Yo is the breakout hottie in Red Tails, an overlooked film about Tuskegee airmen, a crew of African-American pilots called into duty during World War II.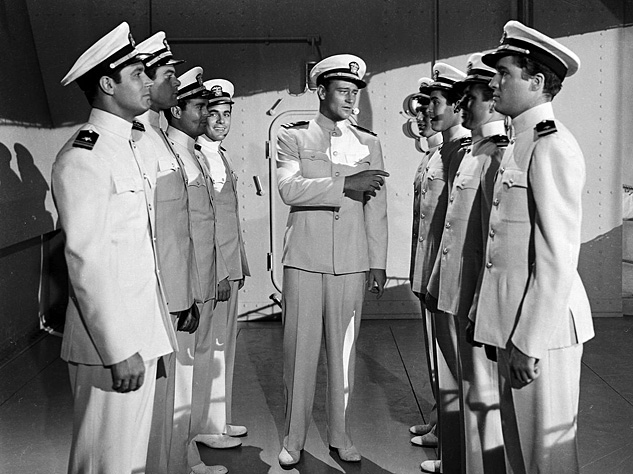 John Wayne (center) in Seven Sinners (1940)
This is a LGBT win-win: John Wayne is dashing in a white Navy uniform in Seven Sinners as a man who falls in love with cabaret singer Bijou, played by bisexual actress Marlene Dietrich. Plus there's a mobster, dashing villains, and the Seven Sinners Cafe. The film was re-released as part of Universal's Vault Series in 2011.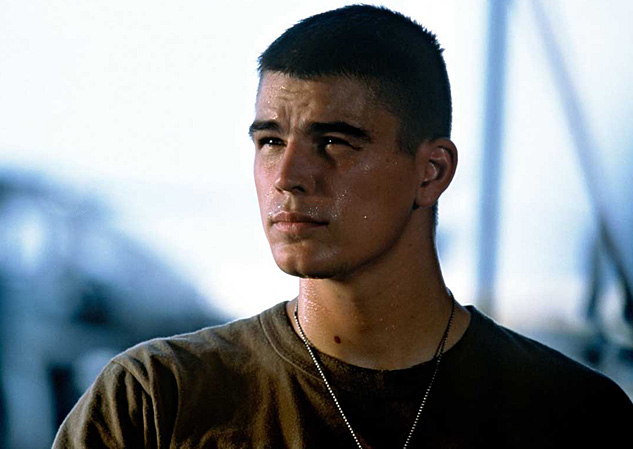 Josh Hartnett in Black Hawk Down (2001)
Sure, it's a film about elite American soldiers outgunned and surrounded by warlords in Somalia, but director Ridley Scott (fresh off of making Gladiator) infused Black Hawk Down with a whole lot of Josh Hartnett and Ewan McGregor sexiness. Even military movie haters kind of dug this one.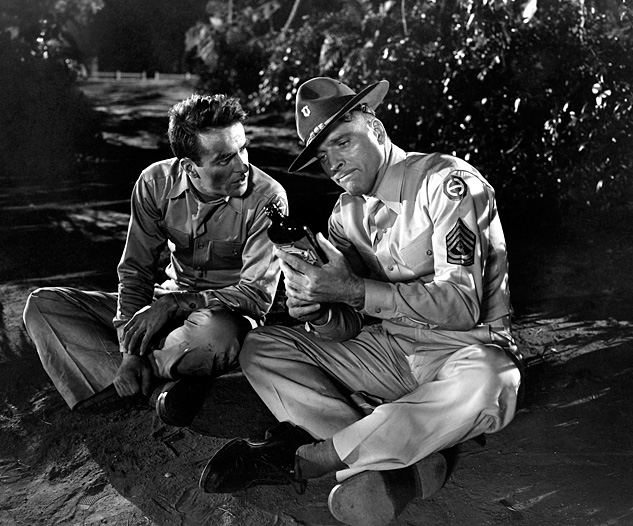 Montgomery Clift and Burt Lancaster in From Here to Eternity (1953)
Iconic in film history in large part thanks to a roll in the sand as waves lapped over them by Burt Lancaster and Deborah Kerr, but From Here to Eternity were plenty of fans who would have rather seen the attractive Lancaster tug-a-hug with co-star Montgomery Clift. Oh, it's about soldiers, pre-Pearl Harbor, passion, tragedy, yada yada, and it won eight Academy Awards (including one for the other hot co-star, Frank Sinatra).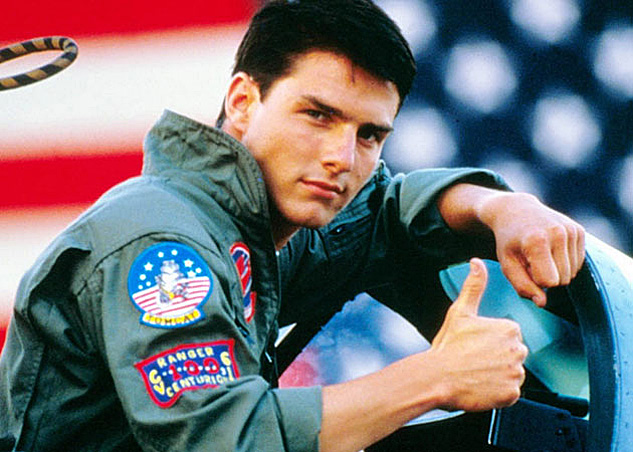 Tom Cruise in Top Gun (1986)
If you were a gay kid in the mid-80s, it's likely you had a crush on Tom Cruise after Risky Business (and the sight of him in his tighty whites). Top Gun has Cruise in all his obnoxious masculine glory plus there are some really hot (subtextually gay) scenes of Val Kilmer and his minion (I mean friend). The 3D Blu-ray version was released last month.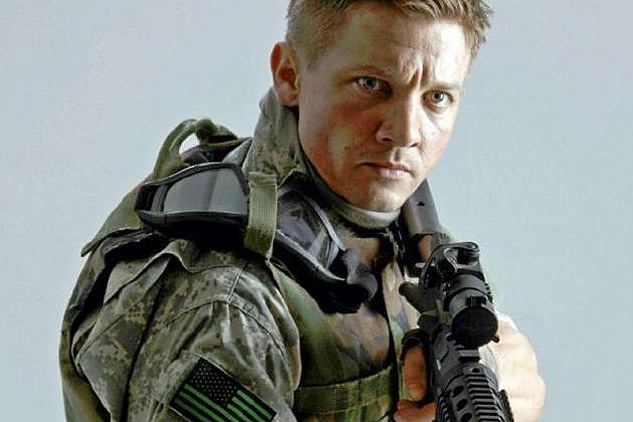 Jeremy Renner in The Hurt Locker (2009)
Director Kathryn (Zero Dark Thirty) Bigelow made this complex and seemingly brilliant film about the Iraq war, but we watched The Hurt Locker only to see Jeremy Renner get dirty and angry and, well, basically, we watched for Renner.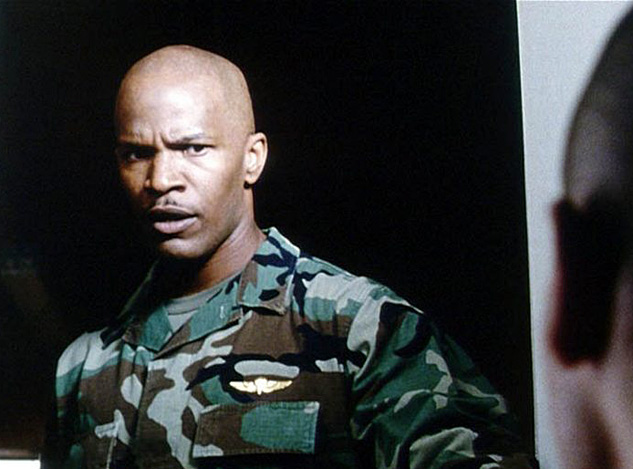 Jamie Foxx in Jarhead (2005)
A character-driven movie about the original Gulf War, Jarhead garnered lots of attention for its other stars — Jake Gyllenhaal, Peter Sarsgaard — but the clean-shaven, bald-is-beautiful Foxx is the one to keep your eyes on here.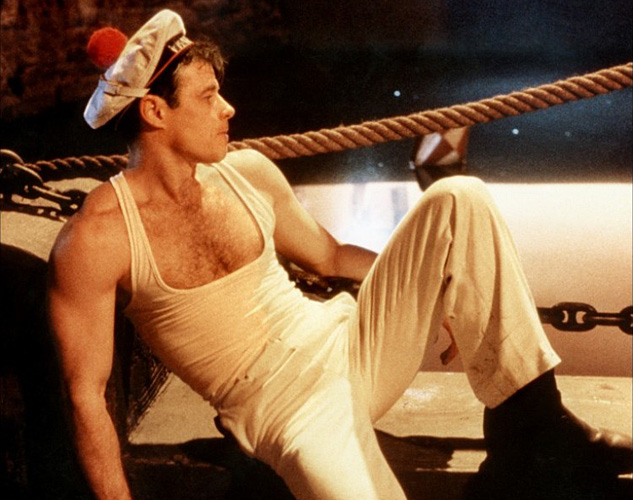 Brad Davis in Querelle (1982)
In director Rainer Werner Fassbinder's classic film, the late Brad Davis is Querelle, a captivating Belgian sailor (and murderer and thief) who gets it on with men and women and has some disturbingly erotic fight scenes with the actor who plays his brother. Davis — who was bisexual in real life and fathered a transgender son, Alex, with his wife Susan, who today is still an AIDS activist — was already famous for playing the legendary Billy Hayes in Midnight Express.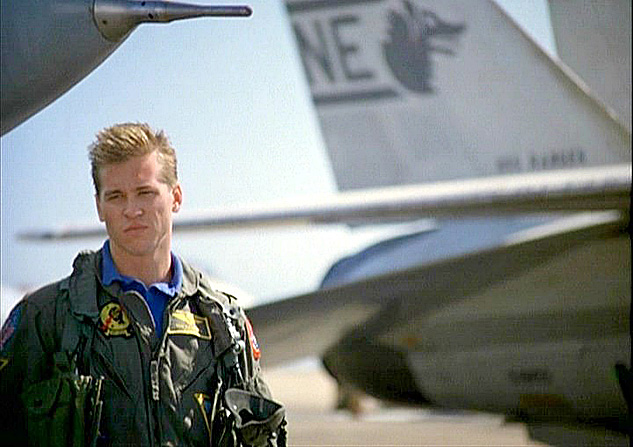 Val Kilmer in Top Gun (1986)
If you were me in the mid-80s, you could care less about Tom Cruise and instead focused all your attention while watching Top Gun on the Ice Man himself: Val Kilmer, who had homoerotic face-offs with Cruise in the film, had a sidekick, Slider (played by Rick Rossovich) that seemed more like a boyfriend. The duo had a shirtless, abs-ahoy volleyball scene that was so popular the Internet is filled with the search phrase "Was Ice Man gay?" (Don't fight it fans, he was, but it was back before the military integrated gays.) In one fight scene (oh, FYI, the guys are all at the Navy's "top gun" academy to train to be fighter pilots), Kilmer tells Rossovich, "This is turning me on." Slider says, "Don't tease me." Sure it was sarcasm, if you believe that. I took it at face value. The 3D Blu-ray version was released last month.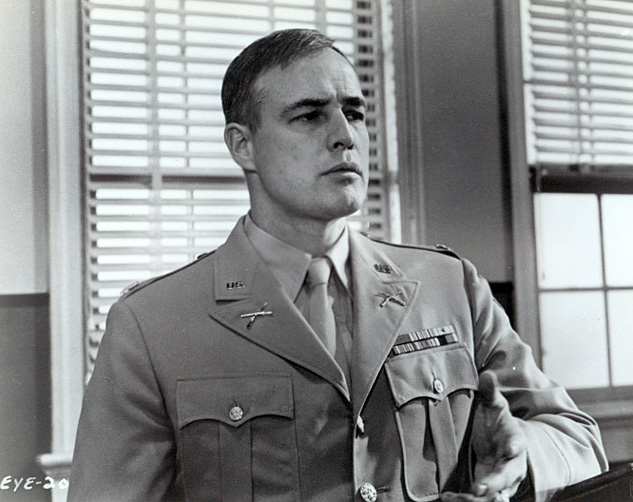 Marlon Brando in Reflections in a Golden Eye (1967)
Director John Huston's twisted film bombed at the box office, but perhaps that's because Reflections in a Golden Eye dealt with repressed homosexuality, a woman who removed her own nipples with pruning shears, a feminine Filipino houseboy, an Army soldier who rides horses nude, and so much more. Brando is a closeted Army major married to Elizabeth Taylor but lusting after said nude-riding soldier.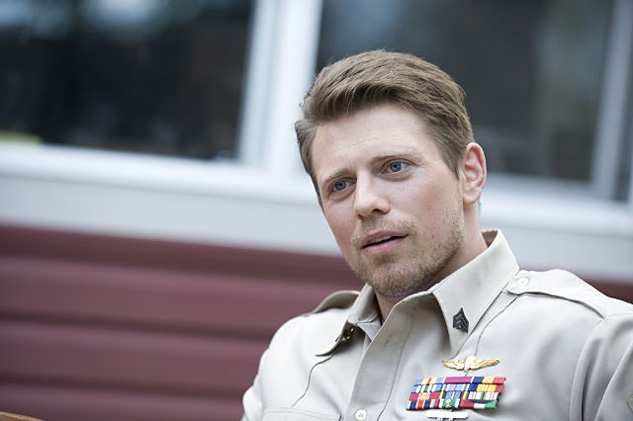 Mike "The Miz" Mizanin in The Marine Homefront (2013)
Face it, America likes it when pro wrestlers, fighters, and bodybuilders end up in action films (Arnold Schwarzenegger, The Rock, Hulk Hogan, John Cena to name a few). With this week's DVD/Blu-ray release of The Marine Homefront you can see the latest hunky athlete to throw his hat in the ring: WWE superstars like Mike "The Miz" Mizanin. The Miz is a Marine sargeant on leave who finds out his sister has been kidnapped by extremists so he becomes a one-man Army (er, Marine?) to rescue his sister, stop a terrorist plot, and save thousands of innocent people. It's a lot in one film, but just look at him; he's clearly hot enough to pull it off.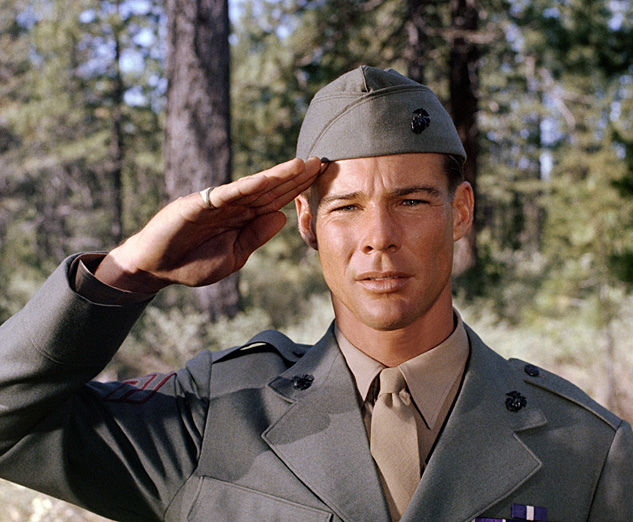 Jan Michael Vincent in Baby Blue Marine (1976)
Jan Michael Vincent is young and beautiful in Baby Blue Marine — the movie poster features him half-nude in all his twinkiness — as a wannabe Marine who fails basic training. On his way home he's mugged by a hero Marine and ends up wearing the guy's uniform and people start treating him like the hero. Sounds convoluted but it's not, it's simple and sweetly innocent and, as I said, Vincent is a sight to behold.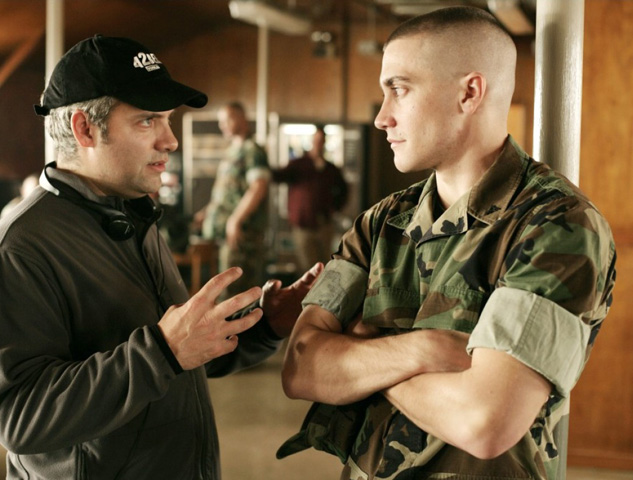 Jake Gyllenhaal in Jarhead (2005)
A character-driven movie about the original Gulf War, Jarhead makes Jake Gyllenhaal hotter than he's ever been.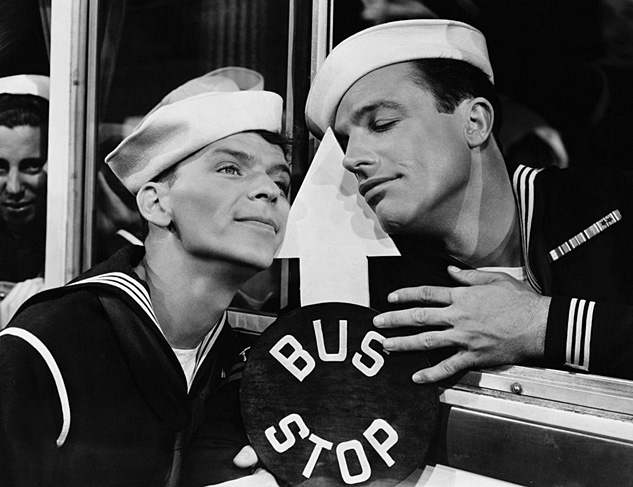 Frank Sinatra and Gene Kelly in Anchors Away! (1945)
Frank Sinatra and Gene Kelly are Joe and Clarence, two Navy sailors on a four-day shore leave in Hollywood in Anchors Away! They dance. They rescue a little boy. They supposedly look for girlfriends. But scene after scene, there's so much campy gay subtext (later, the phrase "Twice as gay as Anchors Away" was applied to many, many things) it's hard to take it at face value. In one scene, Clarence watches Joe sleep, Joe's bum carefully sticking out of the covers. He's happy for two reasons: one, Joe's inadverently sleeping instead of going on his date (Clarence sneaks glances at the clock) and well, that well-positioned booty in front of him. Joe tells a woman he's confused at one point; at another, he offers to pretend to be a girl so inexperienced Clarence can get some practice. Gay, gay, gay. Oh, and Gene Kelly dances with a mouse.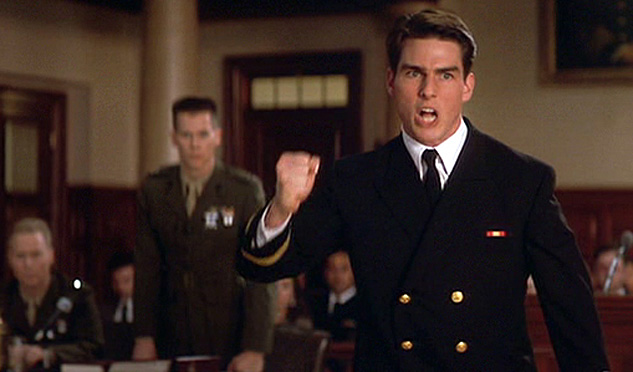 Tom Cruise in A Few Good Men (1992)
In the DADT military, a U.S. soldier is murdered and two military lawyers — Tom Cruise as Lieutenant Daniel Kaffee and Demi Moore as Lieutenant Commander JoAnne Galloway — try to find out who killed him in the superb A Few Good Men. Cruise and Moore are both hot as hell in the film and, though Jack "You can't handle the truth" Nicholson gets all the accolades for his cameo, the acting all around is stunning.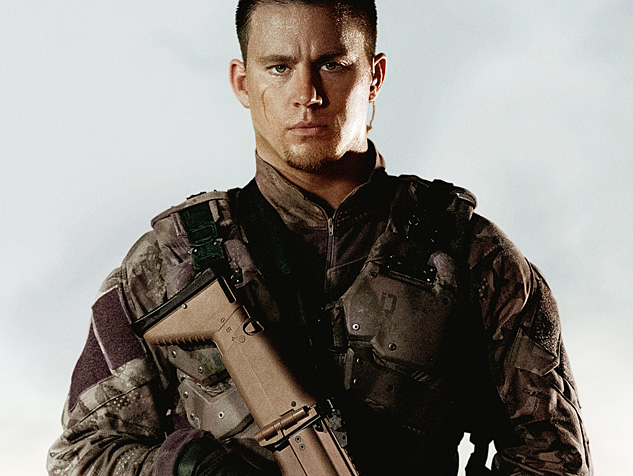 Channing Tatum in G.I. Joe: Retaliation (2012)
It's not on DVD until June, but in some places you can still catch G.I. Joe: Retaliation at the theater. It's about the G.I. Joe team facing off against Zartan again, but you don't need to know the plot. Just look at this picture of Channing Tatum. Seriously, just look.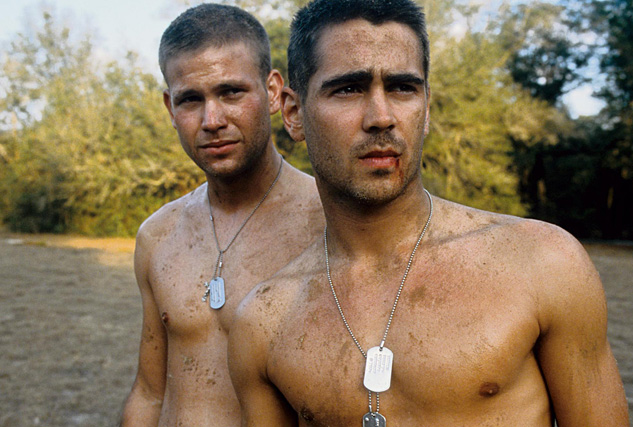 Matthew Davis and Colin Farrell in Tigerland (2000)
A platoon of anxious, defiant, and promising young soldiers go through advanced infantry training at Fort Polk, Louisiana's infamous Tigerland, before (presumably) heading off to Vietnam, in this '70s-era film where not a single actor is ugly.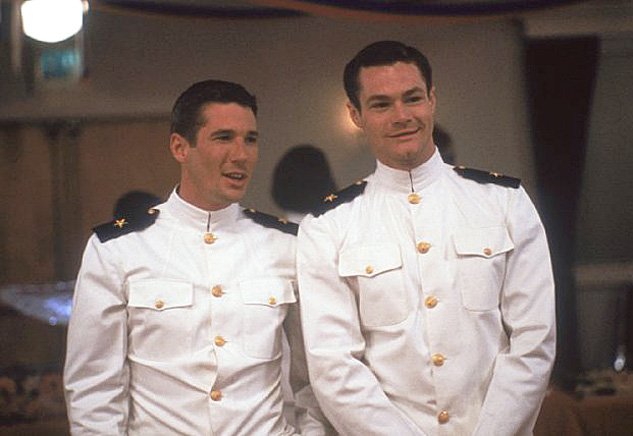 Richard Gere and David Keith in An Officer and a Gentleman (1982)
Superb acting, great romantic film, with the main thing everyone remembers about An Officer and a Gentleman: a scene in which Richard Gere (a independent Naval officer candidate known as Zack Mayo) charges in to the workplace of Debra Winger (with whom he's had a embattled love-hate courtship) in his full Navy regalia and swoops her off her feet and presumably out of her dead-end life and into his bed (er, life) while the Oscar-winning song "Up Where We Belong" plays in the background. In your vision, keep the song, replace yourself with Winger and, well, you get why the scene has been recreated for both comedy and drama in subsequent films and TV shows and SNL skits.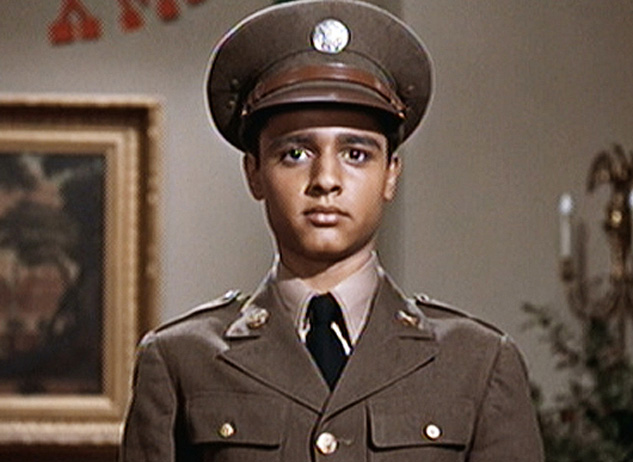 Sal Mineo in Giant (1956)
Gay actor Sal Mineo (he came out in the the 1960s, one of the first gay actors to do so) first rose to fame with his Academy Award-nominated role as Plato, a sensitive teenager smitten with James Dean in Rebel Without a Cause. In Giant, he worked again with Dean (who died before the film came out), this time in a very small role playing Angel, a Latino teen who goes off to war. The role let Mineo don a uniform, and as you know, the only thing hotter than a man in a uniform is a gay man in a uniform. Bonus points for the film's bigger stars: gay actor Rock Hudson and AIDS activist Elizabeth Taylor (who was only 23 at the time).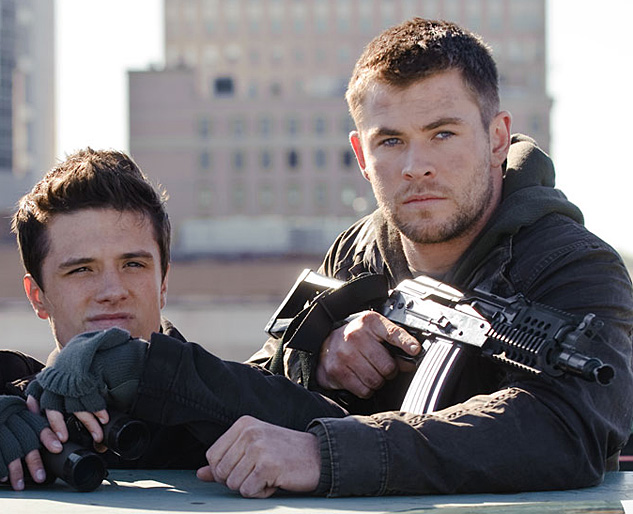 Josh Hutcherson and Chris Hemsworth in Red Dawn (2012)
The film is a remake of John Milius's 1984 cult classic, which followed a group of American teens in rural America who have to fight Russian invaders. This version of Red Dawn, out this week on DVD/Blu-ray/Ultraviolet takes some Red Dawn-esque elements, sets it in suburban Spokane, Wash., makes the bad guys North Korean (so timely), and puts some sexy gun-toting dudes in modern guerilla gear, as if Urban Outfitters made military uniforms. The best part? The guys (it's predominantly male) are even hotter: Hunger Games star Josh Hutcherson (a gay advocate who works with the Straight But Not Narrow organization) and Chris Hemsworth (another sexy guy who loves us; he posed for the cover of Out magazine last year) chief among them.
Now it's your turn: tell us who we missed. Who's the sexiest guy in uniform in movies or television?