Film Reviews Gay Lust for Life After 65
BY

Daniel Reynolds
August 28 2013 7:00 AM ET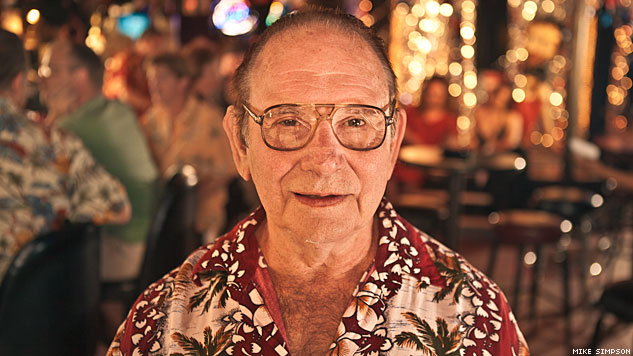 Above: Robert
Martin's desire to wed is linked to both emotional and practical anxieties shared by many older people regarding health care, taxes, inheritance, a sense of standing and recognition within their communities. Not coincidentally, these are the very issues addressed by lesbian Edith Windsor, whose lawsuit, United States v. Windsor, succeeded in overturning a key section the so-called Defense of Marriage Act. With money and medical expenses in mind, the legal benefits afforded by marriage become increasingly more important as one ages.
"As a senior, there are many things that can happen," Martin says. "[Marriage] cuts through a lot of red tape."
Eventually, Martin witnesses and takes part in the celebrations of the passage of the 2011 Marriage Equality Act in New York, captured in the documentary. But despite this political progress, his partner remains reluctant to tie the knot. In Before You Know It, Martin addresses how movements like the push for marriage equality would have been inconceivable to older generations. He says that only a few decades ago, imagining gay marriage would have been as likely as imagining an iPod.
"And for me, on a personal note, it made me think, well, what's my iPod?" says director Raval, 39. "What is it that I can't even comprehend now that might happen in the future?"
For the film's subjects, questions about the future are tied in with their legacy. This is especially true for Before's third subject, Robert Mainor of Galveston, Texas. As the owner of the town's gay bar, Robert's Lafitte, Mainor is a notable public figure in his community. As Raval notes, "If you show up in Galveston and you mention anything about a gay bar or gay seniors, they're going to send you right to Robert's Lafitte."
Financial problems, aggravated by the destruction caused by hurricanes and Galveston's fading popularity as a destination for Houston's elite, force Mainor, the son of a Southern Baptist preacher, to wrestle with the possibility of losing his bar, advertised as the longest-operating gay bar in Texas. The establishment, like the LGBT retirement home and SAGE, represents a safe haven, which Mainor created. Throughout the documentary, gay employees, customers, and Mainor's nephew recount how they escaped intolerant environments to find shelter at Lafitte's, lamenting that its closing might mean the end of a supportive community.
"Before you know it," Mainor repeats throughout the documentary, and each time the meaning of the phrase expands.
For Raval, struggles with preservation and perseverance such as these raise questions that strike at the heart of what it means to be human. "What is the inevitable?" Raval asks. "And how do you preserve and make sure that all the great ideas that you've started can continue without you?"
"Aging does not discriminate," he continues. "We are all getting older. And there is a shift that happens. The power of youth starts to fade and it becomes something else. I wanted to look at these three individuals because, even though they are aging, they are still living life to the fullest. They're still discovering themselves, and they're still wrestling with ideas of love and loss, and acceptance and self-acceptance, and the search for community and the importance of community. And I think those ideas are universal."
"These individuals need our support," Raval concludes. "And it's in our best interest, because we're all going to be there someday."
Before You Know It has scheduled screenings throughout September and October — including an anticipated screening in Russia. See the full schedule here.