The Gay Action Hero on Spartacus Is Back
BY

Jase Peeples
January 25 2013 12:17 AM ET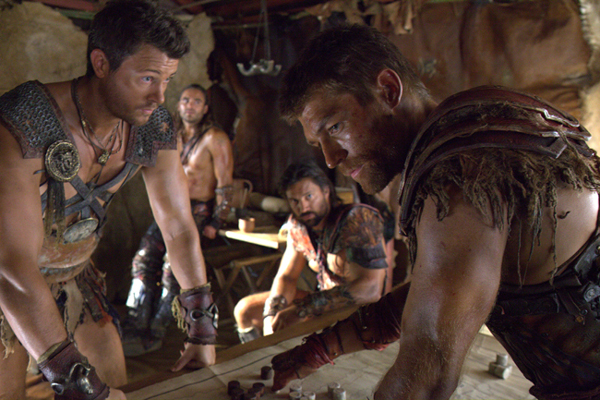 The show also contains a fair amount of nudity. How does the cast approach the show's more scantily clad scenes?
Everyone is individual and I can't speak for everybody, but it's all about respect. Some people might have a shot of vodka or something like that. Others are just that confident with themselves and say, "Yep, I'm doing this." For me personally, at first I was a little bit nervous. Especially in the first season because I wasn't as fit, but once I got into the gym and got a routine down I had no problems doing it. Eventually I became desensitized to it all. I remember walking into a scene where people were having sex all around me and I didn't even blink. Now after this show I can say nothing would faze me at all. I've gone to auditions since where they've asked, "Would you be comfortable doing this or that?" and I say, "Yeah! I've done a lot worse." [Laughs]
Speaking of difficulties you've had to endure as a member of the Spartacus cast, how was boot camp this time around?
It was hard — both mentally and physically draining. By the end of the month you just want to sleep and not do anything for a while. However, it was an absolutely brilliant way to get you into the mindset of a gladiator and prepare you for the demands of the show. I mean, you're working all day. You're half naked all day and you need stamina to just keep going. So it was grueling, but absolutely worth it and a great bonding experience for the actors.
In addition to keeping up with all the physical training, you have to maintain a strict diet while the show is in production. What was the first thing you ate when you wrapped up your final scene of the series?
The first bit of junk food I had was when I went back to Australia and went to a few pubs with my brother. We got fairly intoxicated and on the way home we got Kentucky Fried Chicken. I hated myself afterwards for eating it, but it was just so good.
Sadly, gay characters have a history of being killed off in TV and film. Is there any chance that Agron or Nasir might survive the bloody end that looms ahead for Spartacus and his crew?
Well, Agron and Nasir aren't actually characters from history, so their fates could be anything. That's not a yes or a no, but you'll just have to wait and see.