PHOTOS: We Asked The Stars, Who Is Your Hero?
BY

Nicholas Cimarusti
December 10 2013 7:30 AM ET
The Trevor Project honored Jane Lynch Sunday at TrevorLive, a star-studded gala at the Palladium Theatre in Los Angeles, with its prestigious Trevor Hero Award for her work promoting visibility and acceptance of LGBT youth.

Hosted by comedian Kathy Griffin, the evening featured performances by Adam Lambert, Amber Riley, Cheyenne Jackson, Megan Hilty, Sia, the cast of Glee, and more, who turned out to celebrate the 15th anniversary of the Trevor Project and its lifesaving mission of providing suicide prevention services to LGBT young people. Adam White, a senior at Brigham Young University and a member of the organization's Youth Advisory Committee, and Toyota also received awards for their advocacy.

"I would love this moment to be falsely modest and say that I am no hero," Lynch said upon accepting the Trevor Hero Award. "I would love to be able to say what I do is not extraordinary. But I can't. I deserve this freakin' award."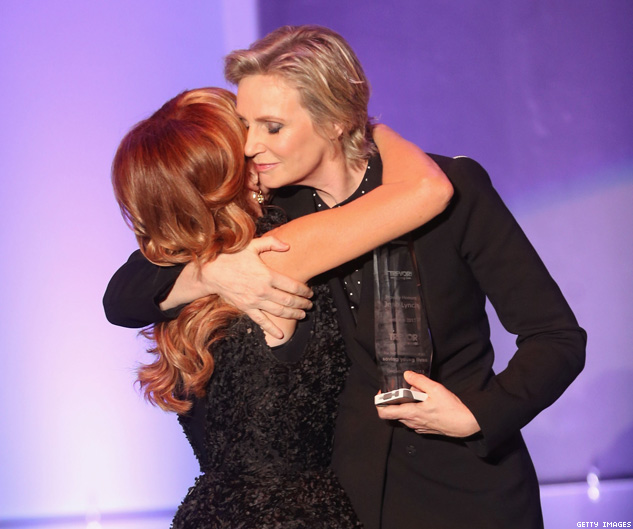 In honor of Lynch's achievement as a Trevor Hero, The Advocate asked the stars at TrevorLive — including Griffin, Glee's Alex Newell, TrevorLive producer and director Adam Shankman, basketball star Jason Collins, Glee's Dot-Marie Jones, Bridegroom's Shane Bitney Crone, and Pretty Little Liars' Brant Daugherty — about their own heroes.
Check out their responses as well as more highlights from TrevorLive on the following pages.