PHOTOS: We Asked The Stars, Who Is Your Hero?
BY

Nicholas Cimarusti
December 10 2013 7:30 AM ET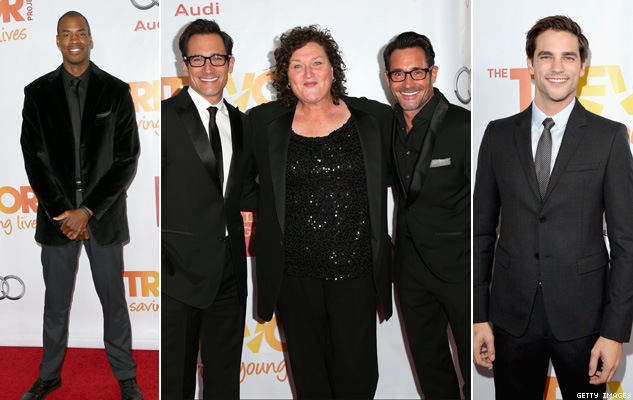 Jason Collins, professional basketball player
"A lot of my heroes are sports people. Magic Johnson and Hakeem Olajuwon are my basketball idols. But just sports people in general: Martina Navratilova, I'm a huge fan of hers. The way that she dominated and kicked butt, the way that she carried herself, she really was one of the original trailblazers for the LGBT community."
Dot-Marie Jones of Glee
"Jane Lynch," said Dot-Marie Jones, who attended TrevorLive in support of her Glee costar as well as the "amazing" outreach of Trevor, which provides lifesaving services to over 100,000 LGBT youth every year. "I love her so much, and the fact that I get to work with her is ridiculous. I feel like I should be paying them."
Brant Daugherty of Pretty Little Liars and Dancing With the Stars
"My childhood hero was Chuck Norris," said Daugherty, who recently appeared on Dancing With the Stars alongside performer Amber Riley. "I'd love to meet him someday. Walker, Texas Ranger? My parents love that show."